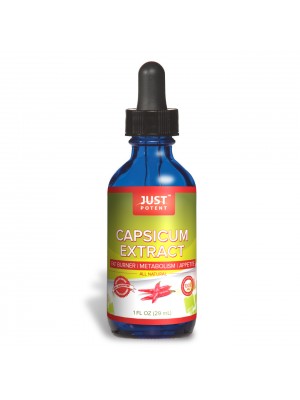 Capsicum Extract by Just Potent
(Discontinued)
Express Checkout
Capsicum Extract by Just Potent
Product Description
The Just Potent Capsicum Extract is an organic and all-natural capsicum extract formulated for those interested in shedding unwanted and stubborn fat. It is no secret that many people find it difficult to get rid of unwanted fat. The Capsicum Extract from Just Potent might be the answer you have been looking for.
Capsicum is mostly found in peppers and a higher concentration is found in cayenne peppers which the Just Potent brand is made from. Our formulation contains 1000mg of the capsicum extract. The Just Potent Capsicum extract can help you burn real fat and it tastes good in your mouth unlike some other brands. The capsicum extract as you may know, is the spicy element of the cayenne pepper. For generations, it has been used for stabilizing blood sugar levels, burning calories, aid heart health, and blood purification. When used externally, the capsicum extract can help slow bleeding in open wounds.
The way the capsicum extract works is simple and there is solid scientific research backing these claims. The capsicum extract basically help you burn fat. The fat burned is converted to energy and this means you will gain extra energy from using this supplement. It is possible to use regular cayenne peppers, but you might need to eat a "bucket" full of cayenne peppers to get the equivalent of what you get from a dropper of the Just Potent Cassicum extract.
Product Features
Can help suppress your appetite
Can help you lose weight naturally by suppressing your appetite. Burns belly fat and overall body fat.
Scientific evidence suggests the capsicum extract stimulates the digestive enzymes which in-turn leads to better digestion.
Help to reduce bad fat in the body -- LDL
All natural and organic ingredients. No artificial coloring, fillings, binders, or additives!
Ingredients
Capsicum extract. 1000mg strong.
Safety Information
Do not exceed recommended serving size. Keep out of reach of children. Store in a cool, dry place. Do not use if the safety seal is broken or damaged. Not intended for use by pregnant or nursing women. If you're taking any medication or planning any medical procedure, consult your doctor before use. Discontinue use and consult your doctor if any adverse reactions occur.
How to use Just Potent Capsicum Extract
Adults, take one 1 dropper per day. For children between the ages of 6-12, 1/2 dropper is recommened. Can be taken any time of the day. Avoid taking the Just Potent Capsicum extract some few hours before bed.
________________________________________________________
Countries we ship to...
Among the countries we ship to are: Australia, Austria, Belgium, Canada, Cayman Islands, Denmark, Dominican Republic, Estonia, Finland, France, Germany, Greece, Guam, India, Ireland, Italy, Israel, Malaysia, Mexico, Netherlands, New Zealand, Norway, Panama, Poland, Portugal, Puerto Rico, Russian Federation, Saudi Arabia, South Africa, Spain, Sweden, Switzerland, United Arab Emirates, and Virgin Islands (U.S).
We practically can ship to anywhere in the world. If you do not see your country included in the list above, please contact us so we may be able to work with you.