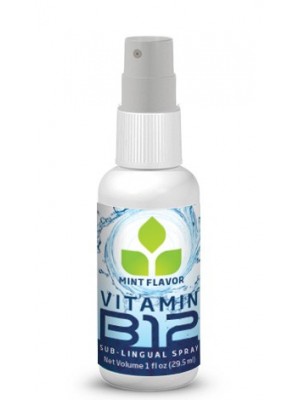 Just Potent Sub-Lingual Vitamin B12 -- Mint Flavor
(Discontinued)
Express Checkout
Just Potent Sub-Lingual Vitamin B12 -- Mint Flavor
Just Potent Sub-Lingual Vitamin B12 -- Mint Flavor
Product Description
Vitamin B12 is an essential vitamin that the body needs to brew energy and ward off threats to the immune system. Being deficient in Vitamin B12 can be detrimental to the healthy state of your body. With Just Potent Vitamin B12, you can be sure you're getting the right amount of Vitamin B12 to help keep your body functioning.
Product Features
Help you fight against fatigue. In other words, you will gain more energy using Just Potent Sub-Lingual Vitamin B12.

Helps regulate your nervous system while at the same time helping you reduce stress and depression or their possibilities.

With Just Potent Vitamin B12, you can be sure of a sound digestive system.

Just Potent Vitamin B12 can help fight against stroke, high blood pressure, and it ultimately helps bring down your cholesterol level which in turn prevent hearts diseases

Just Potent Vitamin B12 helps protect against cancer -- prostrate, colon, lung, and breast.

Another good our Vitamin B12 will do for you is: glowing and healthy skin, hair, and nails.
Ingredients
Safety Information and Caution
Keep out of children's reach. Do not use if safety seal is damaged or broken. Do not exceed recommended dose. Pregnant or nursing mothers, children under 18, and individuals with known medical condition(s) should consult a physician before using this product.
How to use Just Potent Sub-Lingual Vitamin B12
Adults, take 5 sprays under the tongue twice daily.
International Shipping
We now ship to select international destinations. Below, you will find a list of countries we currently ship to. If you do not see your country in the list, please contact us to see if we will be able to ship to your country.

We ship to customers in the U.S and Canada. We also ship to these countries: Australia, Austria, Belgium, Cayman Islands, Denmark, Dominican Republic, Estonia, Finland, France, Germany, Greece, Guam, India, Ireland, Italy, Israel, Laos, Malaysia, Mexico, Netherlands, New Zealand, Norway, Panama, Poland, Portugal, Puerto Rico, Russian Federation, Saudi Arabia, South Africa, Spain, Sweden, Switzerland, United Arab Emirates, and Virgin Islands (U.S).