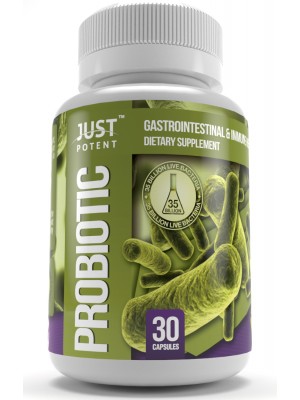 Probiotic Supplement by Just Potent | 35 Billion CFUs | Gastrointestinal & Immune Health
(In Stock)
Express Checkout
Probiotic Supplement by Just Potent | 35 Billion CFUs | Gastrointestinal & Immune Health
Probiotic Supplement by Just Potent | 35 Billion CFUs | Gastrointestinal & Immune Health
Probiotic Supplement by Just Potent | 35 Billion CFUs | Gastrointestinal & Immune Health
5
1
In Stock
Benefits and Features
PREORDER NOW - Starts shipping 03/29/2020

100% honesty-backed ingredients and product label
Helps improve your digestive health

Each capsule packs 35 billion CFUs. That's the equivalent to 35 cups of yogurt

If you're on antibiotics, you need probiotics to replenish good bacteria

Supercharges your immune system, and helps you tolerate lactose

---
FREE Shipping
60-Day Money Back Guarantee
Awesome Customer Service
This product has a minimum quantity of 10
What are Probiotics?

Probiotics are live microorganisms (bacteria) that may be very beneficial to our health. They reside naturally in our body and they generally cause no harm. These microorganisms are referred to as the good bacteria.
Why Just Potent Probiotics Supplement?
The Just Potent Probiotic supplement contains 8 different bacteria strains that are known to be beneficial to our immune system and gastrointestinal health; these 8 strains amount to 35 billion colony forming units (CFUs) as of the time of manufacture.
Ingredients
See product image above.
Safety Information
Do not exceed recommended serving size. Keep out of reach of children. Store in a cool, dry place. Do not use if the safety seal is broken or damaged. Not intended for use by pregnant or nursing women. If you're taking any medication or planning any medical procedure, consult your doctor before use. Discontinue use and consult your doctor if any adverse reactions occur.
How to use the Just Potent Probiotic Supplement
Adults, take one (1) capsule daily as a dietary supplement during meals or as directed by a healthcare professional.