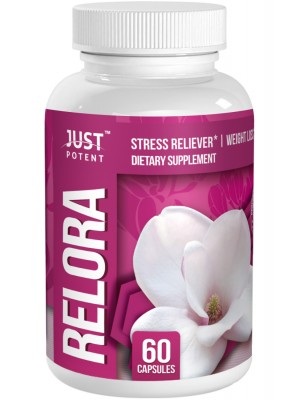 Relora Supplement | Stress Management | Anxiety | Weight Loss
(In Stock)
Express Checkout
Relora Supplement | Stress Management | Anxiety | Weight Loss
Relora Supplement | Stress Management | Anxiety | Weight Loss
Benefits and Features
Helps take the edge off your stress levels so you can feel calmer and more relaxed
Reduces stress-induced munchies
Does not cause drowsiness
All-natural, Non-irradiated, Non-ETO treated, Non-GMO, vegetarian and Kosher certified

Relora® is the leading all-natural dietary supplement that's scientifically proven to alleviate stress, curb stress-related eating, promote weight management and support healthy cortisol levels.
The most recent clinical trial conducted on Relora® and published in the Journal of the International Society of Sports Nutrition showed that after taking Relora® for 4 weeks, people's stress levels, anger and fatigue decreased 11%, 42% and 31%, respectively.
Product Features
Helps take the edge off your stress levels so you can feel calmer and more relaxed
Reduces stress-induced munchies
Does not cause drowsiness
All-natural, Non-irradiated, Non-ETO treated, Non-GMO, vegetarian and Kosher certified
Widely supported by the medical community, including medical doctors, naturopaths, certified nutritionists and chiropractors
Scientifically proven effective through numerous third party studies and clinical trials
Relora® is a proprietary blend of Magnolia officinalis and Phellodendron amurense bark extracts
Ingredients
See product image above.
Safety Information
Do not exceed recommended serving size. Keep out of reach of children. Store in a cool, dry place. Do not use if the safety seal is broken or damaged. Not intended for use by pregnant or nursing women. If you're taking any medication or planning any medical procedure, consult your doctor before use. Discontinue use and consult your doctor if any adverse reactions occur.
How to use the Just Potent Relora® Supplement
Adults, take one (1) capsule two (2) to three (3) times daily at mealtime or as directed by a healthcare professional.
Read more on Relora®
Relora® is used to manage the effect of stress on one's health and wellbeing. It is used to achieve a calm state of mind and to aid the effective function of the adrenal glands. Adrenal glands releases into the body, hormones that help the body control blood sugar, burning of fat and protein, regulation of blood pressure, and effective reaction to stressors such as major illnesses or injury.
This article provides detailed information about this nature gift: what it is, its content, benefits, usage, deficiency, side effects and a lot more.
WHAT IS RELORA?
Relora® is made from Chinese traditional wonder that has been in use for over 1500 years along with six B vitamins. It is made from the combined use of the bark of two Chinese trees; Magnolia Officinalis and Phellodendron Amurense. The combination of these barks help support sound sleep, reduce stress eating, anxiety, irritability, and nervous breakdowns. It includes actively, the formulae of vitamins B2, B6, B12, and folate, which aids positive mood and moderate the effects of stress.

A typical capsule may contain the following ingredients: Thiamin (as Thiamin HCl), Riboflavin (as Riboflavin 5'-Phosphate Sodium), Niacin (as Niacinamide), Vitamin B6 (as Pyridoxal 5'-Phosphate), Folate (as L-5-Methyltetrahydrofolate from L-5-Methyltetrahydrofolic Acid, Glucosamine Salt), Vitamin B12 (as Methylcobalamin), Magnolia Officinalis (bark) extract, Phellodendron amurense (bark) extract.

For some, it's important to get the pure Relora® supplement and Just Potent gives you the opportunity to experience Relora® without any addition or subtraction.
WHAT IS RELORA SUPPLEMENT?
Relora® supplement mitigates the effects of stress in the body and as such, enhances one's wellbeing. It is made up of ingredients that are not addictive and can be purchased online or your local supplement or grocery store.
SOURCES OF RELORA


Relora® supplement is sourced from the bark of Magnolia Officinalis and Phellodendron amurense trees. These are ancient Chinese trees with natural medicinal benefits. Magnolia Officinalis increases the survival of the body by reducing the effect of fatigue while Phellodendron Amurense relieves stress and helps manage one's body weight. Relora® has not been found to exist in food or any other sources.
FUNCTIONS AND BENEFITS OF RELORA SUPPLEMENT TO THE BODY

The daily hustle and bustle for survival have increased the general stress level of people. Work pressure, road traffic, intense competition, conflicts, fights with loved ones, financial pressure and all, causes secretion from adrenal glands to manage the effects of these stress on the body.
Relora® is a product of traditional Eastern medicine with improved plant technology. It helps promote healthy levels of stress hormones, healthy sleep, and energy levels. Among others, its functions and benefits include:
Providing support to the normal function of the adrenal: Stress causes a physical and mental drain. The adrenal gland produces a steroid hormone called cortisol and its main role is regulating the body's response to stress and glucose concentration in the blood. The intake of Relora®, therefore, cushions the effects of stress, such as fatigue, confusion, depression, reduces anxiety, promotes calmness of mind and ensures good sleep.
Reduces stress eating and aids weight loss: For a number of people, the natural reaction to excessive stress is eating, which can be in excess when induced by stress. Relora® reduces the effect of stress on the body and automatically controls stress-induced eating. This, in turn, negates the need to stress-eat and this eventually leads to weight loss.
Helps in blood sugar regulation: Stress signals the body to discharge cortisol, the hormone that aids the body to get through difficult situations. When cortisol is released, breathing and the heart rate increases. This triggers the release of glucose and protein stores from the liver into the blood to make sufficient energy available to the muscles for immediate use. This in turn results in high blood sugar levels. Therefore, the use of Relora® prevents your system from going through the tasking process of getting stressed and hitting a high blood sugar level.

Prevents fat storage in the body: Relora® supports healthy levels of cholesterol and glucose production in the body and as such, prevents excessive storage of fat in the body. Cortisol is known to also trigger the relocation of fat from around the body to the abdomen. Stress has a direct impact on the level of cortisol in the body.

Improved quality of sleep: Relora® is very effective for improved sleeping habits. Findings from clinical trials suggests that it improves sleep and does not induce daytime sleepiness in most users.

Improves mood and vigor: Relora® has been confirmed to relief stress-related symptoms such as irritability, nervousness, muscle tension, difficulty concentrating and emotional mood swings. Effective control of all these stress-related symptoms improves the mood, physical and mental vigor. Magnolia bark, a major component of Relora®, has been long, successfully used by the Chinese to treat symptoms of burn out, which is known to trigger in many people, psychological conditions such as anxiety and depression. These conditions arise from the inability to slow down or shut down racing thoughts due to over-activity of the nervous system. This is characterized by heart palpitations, sleeplessness, hot flashes/warm flushes, panic attacks, and generalized anxiety. Among others, these symptoms are caused by sensitivity to cortisol receptors in the body. People who tend to suffer from stress elevated anxiety will find Relora® extremely useful.
Reduces cardiovascular disease: One of the major contents of Relora® is Philodendron. It can reduce some indicators of cardiovascular diseases, including oil levels and fasting glucose. Fasting glucose is the result of blood sugar test after the patient has fasted for 8 hours. People with diabetes have a higher level of fasting glucose than those who do not have diabetes. Also, the high-fat level increases the risk of heart disease.
Blood pressure control: The ingredients that makeup Relora® is very beneficial for controlling blood pressure. According to a study in 2006, after the use of Relora®, a 5 mm Hg reduction in systolic blood pressure was confirmed by the researchers.
RELORA DOSAGE
To start with, 1 capsule can be used twice daily; 1 capsule in the morning and 1 capsule at night, but not later. If required for sleep, 1 capsule at night 1 capsule in the morning. This gives room for it to have an effect on your body even during the day. As therapy and to get the benefits of Relora® it is advisable to take 250gm to 500gm a day for 4 weeks. You can also seek advice from a medical practitioner who is knowledgeable in this field.
ADVANTAGES OF TAKING RELORA SUPPLEMENT
Relora® supplement is made with ingredients from natural sources only. Studies have shown that the ingredients are very active and highly effective. It relieves stress and anxiety, helps with weight loss or management and regulates blood sugar levels. It serves as an antioxidant in the body because of the presence of magnolia extract.
SIDE EFFECTS AND WARNINGS ON RELORA SUPPLEMENT

Relora® has proven over the years to be highly beneficial, and most of all, tolerant to most people. Because it has a direct impact on cortisol levels in the body, it may generate some slight side effects in some people.

Allergy: This product generates a contradicting effect in individuals that are hypersensitive to any of its ingredients.

Pregnancy: This product is not suitable for by pregnant or nursing women, except otherwise advised by a health professional.

Interactions: 5-methyltetrahydrofolate (5-MTHF) supplementation is not recommended in concurrent use with metho**trexate tumor therapy. When taken with metho**trexate, it can prevent its activity to inhibit the development of tumor i.e. anti-neoplastic activity. However, 5-MTHF has not been proven to affect the anti-inflammatory function of metho**trexate.
RELORA SIDE EFFECT
Side effects of Relora® supplement can include drowsiness and slight decrease in systolic (top number) blood pressure e.g. 125/80 can drop to 115/80. Uncommon side effects are shaking hands, heartburn, diarrhea, and perilabial numbness, sexual and thyroid dysfunction. Indications of fatigue and headache have also been reported. Besides the identified side effects, it is advisable that users of Relora® avoid alcohol and caffeine, as they can exacerbate its side effects.
POINT TO NOTE

Intake of Relora® boosts the energy level of some patients. It is advised that such patients should avoid its intake at night. Depending on individual body reactions, some may feel the effects a few minutes after intake while some may feel the effects after a few days of regular use.
WHO SHOULD USE RELORA?
People who struggle with tolerating stress.
Those with the symptoms of fatigue.
People who have anxious thoughts at night.
People with a high desire for food or struggle with refusing certain foods.
People suffering from depression and/or anxiety can use Relora® as an anti-depressant.
People with high cortisol level.
People who suffer from apprehension, hopelessness, irritation, low energy, panic or lack of drive.
CONCLUSION
Relora® is effective, easy to use and gives a satisfactory result. It aids appetite control, improves the quality of sleep and sleeping habit and it is an effective anti-anxiety. We recommend that you speak to a health professional on the benefits of Relora® and how you can utilize it to your advantage.