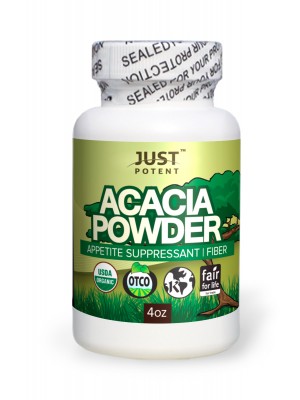 Acacia Powder 4oz (filled by volume) by Just Potent
(Discontinued)
Express Checkout
Acacia Powder 4oz (filled by volume) by Just Potent
Acacia Powder 4oz (filled by volume) by Just Potent
Product Description
Acacia, generally known as Gum Arabic or gum acacia, comes from the sap of several species of African Acacia trees. A water soluble gum, it is used as an appetite suppressant, thickener, stabilizer and emulsifier in foods. This product is of the highest quality and is fair trade certified, kosher certified, and USDA organic certified.
Product Features
Appetite suppressant
Fat buster
USDA certified organic and Fair Trade.
Ingredients
Acacia (Gum Arabic) Powder
________________________________________________________
Countries we ship to...
Among the countries we ship to are: Australia, Austria, Belgium, Canada, Cayman Islands, Denmark, Dominican Republic, Estonia, Finland, France, Germany, Greece, Guam, India, Ireland, Italy, Israel, Malaysia, Mexico, Netherlands, New Zealand, Norway, Panama, Poland, Portugal, Puerto Rico, Russian Federation, Saudi Arabia, South Africa, Spain, Sweden, Switzerland, United Arab Emirates, and Virgin Islands (U.S).
We practically can ship to anywhere in the world. If you do not see your country included in the list above, please contact us so we may be able to work with you.