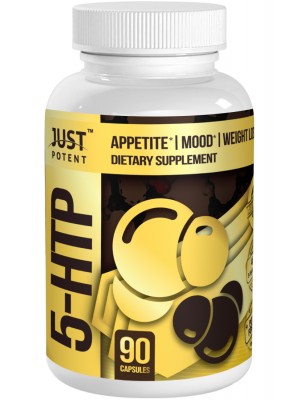 Pharmaceutical Grade 5-HTP by Just Potent | 400mg Per Serving (Highest Potency) | Appetite | Mood | Weight Loss
(Discontinued)
Express Checkout
Pharmaceutical Grade 5-HTP by Just Potent | 400mg Per Serving (Highest Potency) | Appetite | Mood | Weight Loss
Pharmaceutical Grade 5-HTP by Just Potent | 400mg Per Serving (Highest Potency) | Appetite | Mood | Weight Loss
Pharmaceutical Grade 5-HTP by Just Potent | 400mg Per Serving (Highest Potency) | Appetite | Mood | Weight Loss
5
5
Discontinued
Product Description
The Just Potent Pharmaceutical Grade 5-HTP is an all-natural supplement that helps balance your mood while at the same time suppressing your appetite to a level you can cope with. The 5-HTP or 5-hydroxytryphophan is a natural-occurring amino acid that is found in the human body. The importance of the 5-HTP to the body(brain) cannot be overemphasized. Scientist understand the inherent powers and benefits of the 5-HTP and doctors have recommended the 5-HTP to patients suffering from eating disorder, binge eaters, and people who simply have trouble controlling their appetite. A lot of us gain weight when we're stressed out and there are many factors that contribute to why we stress out.
5-HTP by Just Potent can be that solution to your appetite problems. If you constantly feel the need to eat or are hungry within short intervals during the day, you may be suffering from low serotonin levels in the brain. The Just Potent 5-HTP can help supplement your serotonin levels to a level that will dictate to your brain to allow you eat less and feel full and to combat mood swings. The end result of better mood and appetite suppressant is weight loss.

Another way to look at 5-HTP is as a chemical by-product that is a part of the building blocks of protein, known as L-tryphtophan. It is known to affect the brain in a good way, helping to regulate moods. The higher the Serotonin levels in your body, the happier you tend to feel.
Product Features
Can help suppress your appetite
Can help you lose weight naturally by suppressing your appetite
Increases serotonin level in the body
Can help combat these problems: addictive behaviors, sleep disorders, aggression, anger, mood, sleep, metabolism, and appetite. All of which are linked to low levels of serotonin.
All natural ingredients with no side effects and no artificial coloring, fillings, binders, or additives!
Ingredients
5-HTP(seed) extract @ 400mg per serving.
Safety Information
Do not exceed recommended serving size. Keep out of reach of children. Store in a cool, dry place. Do not use if the safety seal is broken or damaged. Not intended for use by pregnant or nursing women. If you\'re taking any medication or planning any medical procedure, consult your doctor before use. Discontinue use and consult your doctor if any adverse reactions occur.
How to use Just Potent 5-HTP Supplement
Adults, take two (2) capsules daily as a dietary supplement. It's best to take 5-HTP before going to bed, since it also produces Melatonin, which helps you to fall asleep. It usually takes 10 to 30 minutes for the effects to kick in.
________________________________________________________
Countries we ship to...
Among the countries we ship to are: Australia, Austria, Belgium, Canada, Cayman Islands, Denmark, Dominican Republic, Estonia, Finland, France, Germany, Greece, Guam, India, Ireland, Italy, Israel, Malaysia, Mexico, Netherlands, New Zealand, Norway, Panama, Poland, Portugal, Puerto Rico, Russian Federation, Saudi Arabia, South Africa, Spain, Sweden, Switzerland, United Arab Emirates, and Virgin Islands (U.S).
We practically can ship to anywhere in the world. If you do not see your country included in the list above, please contact us so we may be able to work with you.