FREE SHIPPING
Free shipping on all orders.
MONEY BACK GUARANTEE
Not satisfied? Return for full refund.
ONLINE SUPPORT
Have questions? Get in touch!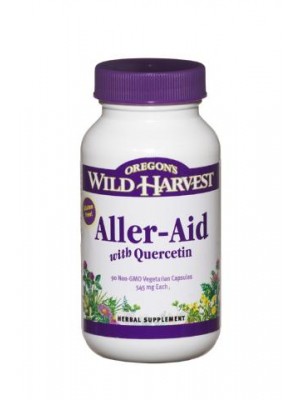 Aller-Aid with Quercetin by Oregon's Wild Harvest
(Discontinued)
Express Checkout
Aller-Aid with Quercetin by Oregon's Wild Harvest
Aller-Aid with Quercetin by Oregon's Wild Harvest
Product Description
Aller-Aid is a mix of herbal formulation and other all-natural ingredients. Intended for those who suffer from allergic reactions. this product offers a rich amount of vitamin C and quercetin. Quercetin has shown real promise in its ability to help fight allergic reactions. Preliminary research suggests that the flavonoid, quercetin, inhibits the production of histamines in the body. Studies also show that the efficacy of quercetin is boosted when combined with vitamin C. The inclusion of N-acetyl Cysteine (NAC) offers the ability to break down mucous and that helps normal cell and liver function. N-acetyl Cysteine is an altered form of the amino acid, cysteine, and it is not provided by our diet. Quercetine, vitamin C, and NAC possess antioxidants.
Other studies show that quercitin might not just be responsible for allergic reactions, it might also help with other ailments like high cholesterol, hypertension, prostatitis, rheumatoid arthritis (RA), and many others.
Product Features
Allergic reaction support
Vitamin C and antioxidant support
May help with conditions like high cholesterol and hypertension.
Ingredients
Vitamin C 250mg (GMO free)
Quercitin 275mg
N-acetyl Cysteine (300mg)
Organic nettle, freeze dried 150mg
Safety Information
Do not use this product if you're pregnant or nursing. Discontinue use if you experience unusual symptoms. Do not take quercetin if you're taking prescribed immune-suppressive pills or Felodipine. Seek the advice of a health care professional if you're taking hormonal estrogen products. Do not exceed recommended serving size except under the direction of a health care professional. Keep out of reach of children.
Warning: Although very rare, some individuals may experience allergic reactions while taking nettles. We recommend starting with one capsule if you have never taken nettles before.
How to use Aller-Aid with Quercetin supplement
As an herbal supplement, take 2 capsule daily with food.
________________________________________________________
Countries we ship to...
Among the countries we ship to are: Australia, Austria, Belgium, Canada, Cayman Islands, Denmark, Dominican Republic, Estonia, Finland, France, Germany, Greece, Guam, India, Ireland, Italy, Israel, Malaysia, Mexico, Netherlands, New Zealand, Norway, Panama, Poland, Portugal, Puerto Rico, Russian Federation, Saudi Arabia, South Africa, Spain, Sweden, Switzerland, United Arab Emirates, and Virgin Islands (U.S).
We practically can ship to anywhere in the world. If you do not see your country included in the list above, please contact us so we may be able to work with you.
Reference(s)
http://www.umm.edu/altmed/articles/quercetin-000322.htm/