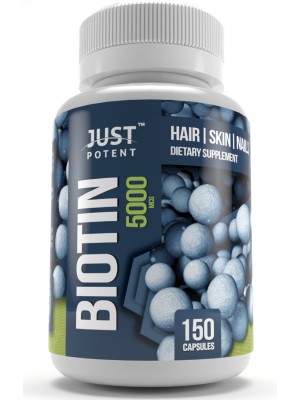 Biotin (Vitamin B7) Supplement by Just Potent 5,000 MCG | Hair, Skin & Nails Supplement
(In Stock)
Express Checkout
Biotin (Vitamin B7) Supplement by Just Potent 5,000 MCG | Hair, Skin & Nails Supplement
Biotin (Vitamin B7) Supplement by Just Potent 5,000 MCG | Hair, Skin & Nails Supplement
Biotin (Vitamin B7) Supplement by Just Potent 5,000 MCG | Hair, Skin & Nails Supplement
5
1
In Stock
Benefits and Features
100% honesty-backed ingredients and product label
Formulated for hair longer, healthier, and luscious hair

Highest potency guaranteed. Each bottle lasts 5 months

Helps your nails grow longer and healthier

Shinier and healthier skin

---
FREE Shipping
60-Day Money Back Guarantee
Awesome Customer Service
What is Biotin?

Biotin is a B vitamin that is needed by the body to breakdown foods we consume. Biotin is a water soluble vitamin which means the body can't store the excess for later use. Instead, the excess biotin in our body are excreted when we go #1.
Why Biotin?
Put it simply, the body needs it. Without adequate biotin in the body, one could experience thinning of the hair, hallucinations, exhaustion, symptoms associated with the nervous system, tingling in one's arms and legs, and a whole lot more.
Ingredients
See product image above.
Safety Information
Do not exceed recommended serving size. Keep out of reach of children. Store in a cool, dry place. Do not use if the safety seal is broken or damaged. Not intended for use by pregnant or nursing women. If you're taking any medication or planning any medical procedure, consult your doctor before use. Discontinue use and consult your doctor if any adverse reactions occur.
How to use the Just Potent Biotin Supplement
Adults, take one (1) capsule daily with meal or as directed by a healthcare professional.