FREE SHIPPING
Free shipping on all orders.
MONEY BACK GUARANTEE
Not satisfied? Return for full refund.
ONLINE SUPPORT
Have questions? Get in touch!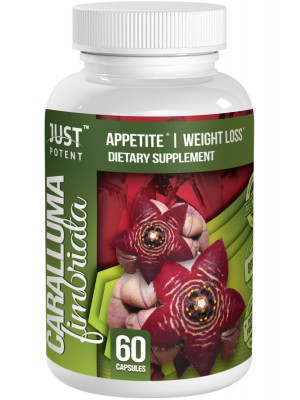 Caralluma Fimbriata Extract by Just Potent | 800mg per Serving | 60 Capsules
(Discontinued)
Express Checkout
Caralluma Fimbriata Extract by Just Potent | 800mg per Serving | 60 Capsules
Caralluma Fimbriata Extract by Just Potent | 800mg per Serving | 60 Capsules
Caralluma Fimbriata Extract by Just Potent | 800mg per Serving | 60 Capsules
5
1
Discontinued
Product Description
We introduce you to the Just Potent ultra-potent caralluma fimbriata, our all natural weight loss and appetite suppressant supplement specially formulated for anyone trying to lose weight. Our formulation of caralluma fimbriata contains nothing but pure unadulterated caralluma fimbriata. What you get is nothing but pure and potent caralluma fimbriata that researchers and doctors have praised for its appetite suppressing and weight loss benefits.
As explained by studies cited by the US National Library of Medicine and National Institutes of Health, "caralluma fimbriata is an edible cactus, used by tribal Indians to suppress hunger and enhance endurance. The effect of caralluma extract was assessed in overweight individuals by a placebo controlled randomized trial [involving] fifty adult men and women (25-60 years). At the end of 30 and 60 days of intervention... waist circumference and hunger levels over the observation period showed a significant decline in the experimental group when compared to the placebo group... caralluma extract appears to suppress appetite, and reduce waist circumference when compared to placebo over 2 months."
Another clinical trial carried out by Western Geriatric Research Institute (Los Angeles, CA) on 26 overweight patients, 19 on active caralluma fimbriata extract, and 7 on placebo. In 4 weeks, "statistically significant reduction were recorded in all key indicators of weight loss". During this trial, no side effects were recorded and researchers were able to determine that prolonged use resulted in no side effects whatsoever.
Product Features
Helps you lose weight naturally by suppressing your appetite
Blocks multiple fat forming enzymes and forces your body to burn the excess fat reserves.
Gain lean muscle mass, shed actual body fat and stay energized all day, all week long.
No side effects. Indians have used caralluma fimbriata for thousands of years with no single case of complications or side effects.
Made in USA with absolutely no fillers, binders, or additives!
Ingredients
Caralluma fimbriata (whole plant) 10:1 @ 800mg per serving
Safety Information
Do not exceed recommended serving size. Keep out of reach of children. Store in a cool, dry place. Do not use if the safety seal is broken or damaged. Not intended for use by pregnant or nursing women. If you\'re taking any medication or planning any medical procedure, consult your doctor before use. Discontinue use and consult your doctor if any adverse reactions occur.
How to use Just Potent Caralluma Fimbriata Supplement
Adults, take two (2) capsules daily as a dietary supplement.
________________________________________________________
Countries we ship to...
Among the countries we ship to are: Australia, Austria, Belgium, Canada, Cayman Islands, Denmark, Dominican Republic, Estonia, Finland, France, Germany, Greece, Guam, India, Ireland, Italy, Israel, Malaysia, Mexico, Netherlands, New Zealand, Norway, Panama, Poland, Portugal, Puerto Rico, Russian Federation, Saudi Arabia, South Africa, Spain, Sweden, Switzerland, United Arab Emirates, and Virgin Islands (U.S).
We practically can ship to anywhere in the world. If you do not see your country included in the list above, please contact us so we may be able to work with you.