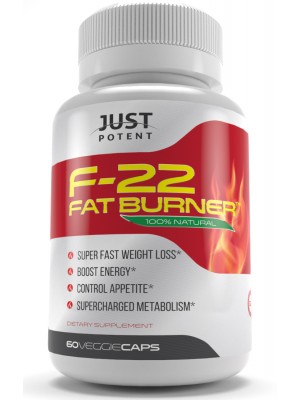 F-22 Fat Burner by Just Potent | Fat Burner | Appetite | Energy | Thermogenesis
(Discontinued)
Express Checkout
F-22 Fat Burner by Just Potent | Fat Burner | Appetite | Energy | Thermogenesis
F-22 Fat Burner by Just Potent | Fat Burner | Appetite | Energy | Thermogenesis
F-22 Fat Burner by Just Potent | Fat Burner | Appetite | Energy | Thermogenesis
5
9
Discontinued
Product Description
What is Just Potent F-22 Fat Burner?
The Just Potent F-22 fat burner is an all-natural pharmaceutical grade supplement full of meticulously chosen ingredients that work synergistically to help you lose weight. These ingredients are proven to help you lose weight while at the same time providing you with that needed energy boost to stay alert all day long.
The Just Potent F-22 fat burner is not just another fat burner or another weight loss supplement. The F-22 is a groundbreaking weight loss supplement that targets fat stores in every part of your body.
Research Backed. Clinically Proven.
The ingredients in the Just Potent F-22 Fat Burner are backed by research and we're very confident you will see results using the F-22.
Rev-up Your Metabolism
If your metabolism is failing you or has failed you, the F-22 Fat Burner will help rev up your metabolism. It is true that a less-active metabolism could lead to weight gain. It's equally true that the amount of what we eat and/or drink can contribute to weight gain. The F-22 will turbocharge your metabolism and help metabolize what you eat faster.
Contains Caffeine. No Jitter
Yes, the F-22 Fat Burner contains caffeine! The amount of caffeine present in every capsule will not in any way cause your heart to race or cause discomfort. Remember, all ingredients that make up the F-22 Fat Burner are carefully measured and selected to ensure you're losing weight with absolutely no side effects.
Not all products or manufacturers of weight loss dietary supplements can boast their products contain caffeine. Why? Because they simply overdo it! They cram too much caffeine in every capsule without thinking of what the after-effect will be. The F-22 contains caffeine but be rest assured it will cause you no discomfort
Dosage
The F-22 is not your typical fat burner or weight loss supplement. It simply is a powerful fat burner. What this means is that you do not have to take 6 capsules, or 5, or 4, or 3. Not even 2 capsules! You take one easy to swallow capsule daily for unsurpassed weight loss results*. Each capsule dissolves fast and in as little as 1-2 hours, F-22 starts working its magic in your body.
Product Features
Potent and powerful fat burner with unsurpased thermogenic effect*
Supercharge your metabolism*
Research backed and clinically proven to help you lose weight*
Energy booster without the jittery*
All natural ingredients with no side effects and no artificial coloring, fillings, binders, or additives!
Ingredients
Safety Information
Do not exceed recommended serving size. Keep out of reach of children. Store in a cool, dry place. Do not use if the safety seal is broken or damaged. Not intended for use by pregnant or nursing women. If you're taking any medication or planning any medical procedure, consult your doctor before use. Discontinue use and consult your doctor if any adverse reactions occur.
How to use Just Potent F-22 Fat Burner Supplement
Adults, take one (1) capsule daily as a dietary supplement.