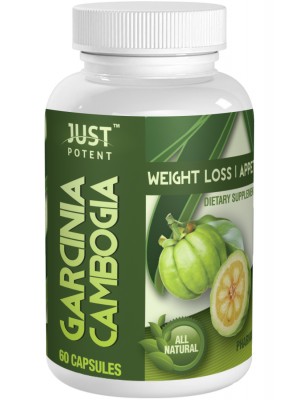 Just Potent Pharmaceutical Grade Garcinia Cambogia 65% HCA 1000mg
(Discontinued)
Express Checkout
Just Potent Pharmaceutical Grade Garcinia Cambogia 65% HCA 1000mg
Just Potent Pharmaceutical Grade Garcinia Cambogia 65% HCA 1000mg
Just Potent Pharmaceutical Grade Garcinia Cambogia 65% HCA 1000mg
5
19
Discontinued
Product Description
This product has been disconued. Please order the New and Improved Garcinia Cambogia.
Garcinia cambogia when added as an "ingredient to meals is considered to be effective in making meals more "filling." In some villages in Malaysia, garcinia is used to make a soup that is eaten before meals for weight loss because of garcinia's appetite-blocking abilities. The ingredient from the rind of the fruit [Garcinia Cambogia] could hasten your weight-loss efforts. The natural extract is called hydroxycitric acid (HCA), and researchers claim that HCA can double or triple one's weight loss.
Garcinia may also be great for emotional eaters. Those who participated in the study showed an increase in their serotonin levels; hence, it may also improve mood and sleeping patterns. By increasing serotonin levels, HCA improves mood and suppresses the drive to react to stressful situations with food. As you eat less, your body senses this and it releases stored fat in your fat cells. Many studies have shown promise. One randomized placebo-controlled study followed 60 obese persons for 8 weeks. With a calorie-restricted diet (1200 kcal/day) and an HCA dose of 1320 mg/day, the experimental group lost an average of 14 pounds (compared to 6.1 pounds in the placebo group). The participants also noted reduced appetite Source: Dr Oz website
Product Features
Pure and potent Garcinia Cambogia with 65% HCA (Hydroxycitric Acid)
Powerful fat burner / blocker and appetite suppressant
All-natural ingredients clinically proven to help you lose weight
Guaranteed to help you lose weight and suppress your appetite
Made in USA in an FDA approved facility and under strict GMP standards
Ingredients
100% pure and potent garcinia cambogia. See image above for full ingredients list.
Safety Information
Do not exceed recommended serving size. Keep out of reach of children. Store in a cool, dry place. Do not use if the safety seal is broken or damaged. Not intended for use by pregnant or nursing women. If you're taking any medication or planning any medical procedure, consult your doctor before use. Discontinue use and consult your doctor if any adverse reactions occur.
How to use Just Potent Garcina Cambogia Supplement
Adults, take two (2) capsules daily as a dietary supplement. Must be taken 30 minutes before/after breakfast or lunch.
________________________________________________________
Countries we ship to...
Among the countries we ship to are: Australia, Austria, Belgium, Canada, Cayman Islands, Denmark, Dominican Republic, Estonia, Finland, France, Germany, Greece, Guam, India, Ireland, Italy, Israel, Malaysia, Mexico, Netherlands, New Zealand, Norway, Panama, Poland, Portugal, Puerto Rico, Russian Federation, Saudi Arabia, South Africa, Spain, Sweden, Switzerland, United Arab Emirates, and Virgin Islands (U.S).
We practically can ship to anywhere in the world. If you do not see your country included in the list above, please contact us so we may be able to work with you.