FREE SHIPPING
Free shipping on all orders.
MONEY BACK GUARANTEE
Not satisfied? Return for full refund.
ONLINE SUPPORT
Have questions? Get in touch!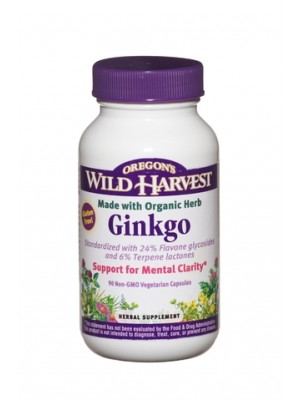 Ginkgo Biloba by Oregon's Wild Harvest
(Discontinued)
Express Checkout
Ginkgo Biloba by Oregon's Wild Harvest
Ginkgo Biloba by Oregon's Wild Harvest
Product Description
Ginkgo (Ginkgo biloba) happens to be among one of the oldest living trees and it ranks among the most studied herbs in use today. It is a known fact that supplements containing Ginkgo are amongst the best selling in both Europe and the United States. For example, in Germany and France, Ginkgo ranks really high amongst the most prescribed herbs.
In traditional medicine, Ginkgo has been used to treat blood disorders and for support of mental clarity. "Scientific studies throughout the years have found evidence that supports these claims. Although not all studies agree, ginkgo may help treat dementia (including Alzheimer's disease) and intermittent claudication, or poor circulation in the legs. It also shows promise for enhancing memory in older adults. Laboratory studies have shown that ginkgo improves blood circulation by dilating blood vessels and reducing the stickiness of blood platelets."
There are two powerful compounds found in Ginkgo. These compounds (flavonoids and terpenoids) are believed to have potent antioxidant properties. "Antioxidants such as those found in ginkgo can help neutralize free radicals and may reduce or even help prevent some of the damage they cause."
Product Features
Supports mental clarity and memory enhancement
May help treat Dementia and Alzheimer's disease
Flavonoids found in Ginkgo may help eliminate or lessen the chance of retinal damage -- damage to the back part of the eye.
May improve vision
May help with other conditions like: tinnitus, intermittent claudication, and many others
Ingredients
Organic Ginkgo leaf (1140mg per serving)
Ginkgo leave powdered extract (180mg per serving) -- 24% flavone glycosides and 6% terpene lactones
Safety Information
Do not use this product if you're pregnant or nursing. Individuals taking anticoagulant medication should consult with their health care professional before use. Discontinue use if you experience unusual symptoms. Although very rare, some people may experience headaches or mild gastrointestinal discomfort when taking Ginkgo. Discontinue use 2 weeks prior to surgery or dental procedures and inform surgeon. Do not exceed recommended serving size except under the direction of a health care professional. Keep out of reach of children.
Allergen: Avoid Ginkgo if you're allergic to it or have hypersensitivity to members of the Ginkgoaceae family.
How to use the Ginkgo biloba supplement
As an herbal supplement, take 3 capsules daily with food.
________________________________________________________
Countries we ship to...
Among the countries we ship to are: Australia, Austria, Belgium, Canada, Cayman Islands, Denmark, Dominican Republic, Estonia, Finland, France, Germany, Greece, Guam, India, Ireland, Italy, Israel, Malaysia, Mexico, Netherlands, New Zealand, Norway, Panama, Poland, Portugal, Puerto Rico, Russian Federation, Saudi Arabia, South Africa, Spain, Sweden, Switzerland, United Arab Emirates, and Virgin Islands (U.S).
We practically can ship to anywhere in the world. If you do not see your country included in the list above, please contact us so we may be able to work with you.
Reference(s)
http://www.umm.edu/altmed/articles/ginkgo-biloba-000247.htm/