FREE SHIPPING
Free shipping on all orders.
MONEY BACK GUARANTEE
Not satisfied? Return for full refund.
ONLINE SUPPORT
Have questions? Get in touch!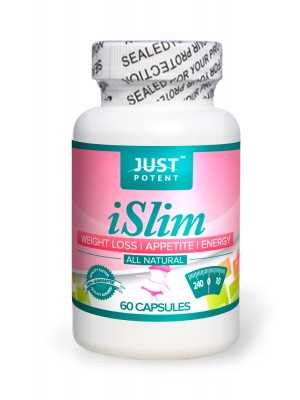 Express Checkout
iSlim by Just Potent
Product Description
iSlim from Just Potent is a formulation of carefully handpicked weight loss ingredients that have been backed in numerous studies in their effectiveness in tackling weight loss related problems. When people don't lose weight, they forget is not all about eating healthy and exercising. They forget the fact that hormonal balance, appetite, the feel of feeling good (serotinon), and a whole lot of other factors need to be corrected for any meaning weight loss to happen.
With iSlim, we've gathered the very best of all-natural ingredients that are proven to help fix many of the underlying problems that have prevented you from losing weight safely. When these problems are fixed, there won't be a single excuse for not losing that stubborn belly fat or that last 5-10 pounds that won't cave in no matter what you do. iSlim will kickstart your metabolism, provide you with great energy without the jitters, and help you control your appetite.
Product Features
Appetite modulator -- modulates your appetite effectively
Fat burner -- will help you burn fat and at the same time help you reduce the LDL by increasing HDL
Metabolism kickstarter -- helps your metabolism function properly which results into easy digestion.
Energy provider -- Gives you enough energy to take you through the day without the jitters associated with some weight loss supplements.
Non-stimulating -- forget having to worry about increased heart rate.
Body toner -- tones your body by helping you maintain lean muscle. Only fat is burned in the thermogenic process.
Stress control -- tackles stress head-on
Ingredients
Chromium (Polynicotinate), Hoodia Gordonii, L-Carnitine, Gymnema Sylvertre PE 75%, L-tyrosine, Green tea (50% catechins), Alpha Lipoic Acid,, Oolong Tea PE 50%​, Cayenne Pepper 80,000 HU
Safety Information
Keep out of children's reach. iSlim is is not intended for pregnant or nursing mothers. If you have any serious medical condition, be sure to contact your doctor before using iSlim.
How to use the iSlim weight loss supplement
Adults, take 1 capsule twice daily on an empty stomach. Take one capsule in the morning and another in the afternoon with 8-12 oz of water. Make sure to drink enough water throughout the day (5-8 glasses) to maintain fat loss.
________________________________________________________
Countries we ship to...
Among the countries we ship to are: Australia, Austria, Belgium, Canada, Cayman Islands, Denmark, Dominican Republic, Estonia, Finland, France, Germany, Greece, Guam, India, Ireland, Italy, Israel, Malaysia, Mexico, Netherlands, New Zealand, Norway, Panama, Poland, Portugal, Puerto Rico, Russian Federation, Saudi Arabia, South Africa, Spain, Sweden, Switzerland, United Arab Emirates, and Virgin Islands (U.S).
We practically can ship to anywhere in the world. If you do not see your country included in the list above, please contact us so we may be able to work with you.