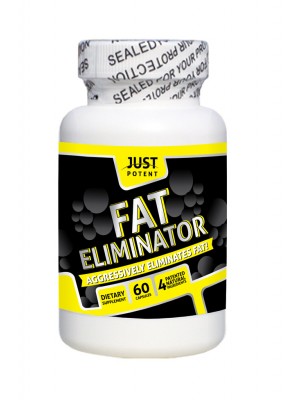 Fat Eliminator :: Scientifically Proven Fat Burner + 4 Patented Natural Ingredients
(Discontinued)
Express Checkout
Fat Eliminator :: Scientifically Proven Fat Burner + 4 Patented Natural Ingredients
Fat Eliminator :: Scientifically Proven Fat Burner + 4 Patented Natural Ingredients
Fat Eliminator :: Scientifically Proven Fat Burner + 4 Patented Natural Ingredients
5
1
Discontinued
Product Description
The Just Potent Fat Eliminator is our potent formulation for fat burning. With carefully hand selected proven weight loss ingredients, we are proud to deliver to you a weight loss supplement that works. With the inclusion of 4 patented natural ingredients, Fat Eliminator will help you achieve your weight loss goals without any side effects. See below for more information and explanation on what each individual ingredients can do for you...
Product Features
Potent fat burner with no side effects.
Target fat stores all over the body with even more powerful ingredient that targets belly fat -- Brown Seaweed.
Does not speed up your heart rate or cause you jitters
All-natural ingredients
Helps regulate your appetite
Does not require dieting or strenuous exercises
Helps eliminate the fat and other unhealthy elements from the food the eat
Good for men and women
Helps to speed up your metabolism without causing a change in heart rate and blood flow.
Helps mitigate against depression and helps to lower "bad" cholesterol, while raising "good" cholesterol.
Ingredients: 4 Powerful and Patented Ingredients
ChromeMate®:
Helps regulate the amount of sugar in the blood. This helps limit the amount of sugar that you consume, letting you eat the foods you love, while skimming the fattening agents out of them for you. This ultimately helps you lose more weight.
Super Citrimax®:
Not only does Super CitriMax® curb appetite, burn fat and result in significant weight loss without side effects, it also promotes healthy blood lipid levels and reduces your Body Mass Index, the indicator of your healthy body weight. Super CitriMax® has been shown to increase levels of serum serotonin, a neurotransmitter involved in mood, sleep and appetite control.
Advantra-Z® 6% Synephrine:
Made from the extract of citrus aurantium, aka "Bitter Orange". Traditionally, the Chinese used bitter orange for chest and stomach ailments, but it has been shown to have amazing weight-loss attributes and is a safe alternative to Ephedra. Recently it was discovered that Synephrine had Ephedra-like results when mixed with DiCaffeine Malate, which is also found in this supplement.
Fucoxanthin-Study Results
The clinical research also indicated that the metabolic boost from taking fucoxanthin did not stimulate the central nervous system, meaning it didn´t cause the jitters or lost sleep like caffeine, nicotine, or thyroid hormones. Dr. Ramazanov reported that the fucoxanthin was safe with no side effects, and it even provided other health benefits, including improved cardiovascular health, reduction of inflammation (a major cause of heart disease), healthy cholesterol and triglyceride levels, improvements in blood pressure levels, and healthy liver function. As a carotenoid, fucoxanthin was a powerful antioxidant that protected cells from free-radical damage
1,3-Dimethylamylamine:
A derivative of geranium oil which resembles the body's own chemical messenger, epinephrine (adrenaline). Similar to adrenaline, 1,3 Dimethylamylamine exihibits a powerful CNS stimulanting ability for increased energy, mental clarity and physical performance. 1,3-Dimethylamylamine works through a similar pathway as ephedrine, causing an increase in cAMP (the chemical messenger that triggers fat release and provides potent appetite suppression and thermogenic action). An effective dose of geranamine is about 25 mg (miligrams) taken 1-3 times a day.

Safety Information
Do not exceed recommended serving size. Keep out of reach of children. Store in a cool, dry place. Do not use if the safety seal is broken or damaged. Not intended for use by pregnant or nursing women. If you're taking any medication or planning any medical procedure, consult your doctor before use. Discontinue use and consult your doctor if any adverse reactions occur.
How to use Just Potent Fat Eliminator
Adults, take two (2) capsules daily as a dietary supplement. Take 2 capsules some 15-30 minutes before breakfast or lunch. Do not use this product some few hours before bed.
Frequently Asked Questions (FAQ)
Are there any related side effects to using Just Potent Fat Eliminator?
No, there are no side effects whatsoever from using our Fat Eliminator supplement. Continued use will not also cause any side effects or harm.
Do I have to be on a diet to lose weight with the Just Potent Fat Eliminator?
No, you do not have to be on a diet to lose weight with our Fat Eliminator. While we understand that you will burn fat with Fat Eliminator and that Fat Eliminator will skim the fatty agents present in the food you eat, we still advise that you eat healthy and perform some form of exercise. Minimal and less strenuous exercise will do. Our fomulation will ensure you burn more fat, regulate your appetite, and gain energy.
How long can I use the JP Fat Eliminator for?
For as long as you want. If you think you have excess and abnormal fat in your body, you can use our potent supplement to burn them until they disappear.
Do I have to exercise to burn fat?
We advise that you do some form of exercise when using this product. JP Fat Eliminator will help you burn fat without exercising, but what do you want to do the extra energy you get from using our product? Exercising with our product will definitely get you the quickest results.
Did Dr. Oz endorse the brown seaweed on his show?
Yes, he did endorse the brown seaweed as a potent belly fat burner on his show. See the video above.
Will I gain the weight back after I am done using this product?
No, you will not gain the weight back if you make healthy choices after losing weight with our product.
Is your Fat Eliminator manufactured in China?
No, our supplements are manufactured here in the United States in FDA approved labs and facilities.
Can your product be shipped to countries outside of the U.S?
Yes, we offer shipping to many international destinations. Among the countries that we ship to are: Australia, Austria, Belgium, Cayman Islands, Denmark, Dominican Republic, Estonia, Finland, France, Germany, Greece, Guam, India, Ireland, Italy, Israel, Malaysia, Mexico, Netherlands, New Zealand, Norway, Panama, Poland, Portugal, Puerto Rico, Russian Federation, Saudi Arabia, South Africa, Spain, Sweden, Switzerland, United Arab Emirates, and Virgin Islands (U.S).
We practically can ship to anywhere in the world. If you do not see your country included in the list above, please contact us so we may be able to work with you.
Have more questions, chat with one of our helpful representatives today. We're online 20 hours daily :)