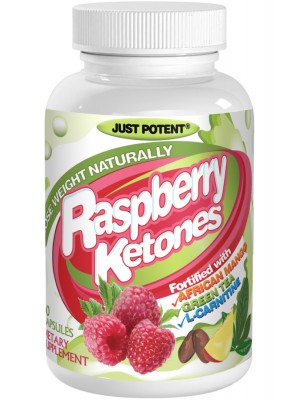 Just Potent Raspberry Ketones plus African Mango, Green Tea, and L-Carnitine
(Discontinued)
Express Checkout
Just Potent Raspberry Ketones plus African Mango, Green Tea, and L-Carnitine
Just Potent Raspberry Ketones plus African Mango, Green Tea, and L-Carnitine
Just Potent Raspberry Ketones plus African Mango, Green Tea, and L-Carnitine
5
5
Discontinued
Product Description
Just Potent Raspberry Ketones is a natural blend of proven natural weight loss ingredients. These ingredients -- raspberry ketones (500mg), green tea, African mango, and L-Carnitine are winners when it comes to weight loss and fast fat burning.
Raspberries ketones are derived from the raspberry fruit and numerous studies and success stories have backed the fat burning power of these berries. Raspberry ketones have hormonal properties that instruct the body to use up fat stores and fat from consumed food instead of storing them while at the same time helping to rejuvenate the metabolism and helping to suppress one's appetite. Aside from the fat burning powers of raspberry ketones, it also helps control blood pressure and helps strengthen one's cardiovascular health.
African mangoes have been proven to help facilitate weight loss after researchers from a University in Cameroun, West Africa discovered that it contained properties that helps suppress appetite, increase metabolism, reduce bad cholesterol, increase good cholesterol while giving you great strength that can last you for a whole day. African mangoes contain powerful antioxidants and they're especially known for their fat burning power. When used over time, African mango can help one lose weight with no side effects. A recent study showed that participants who were given African mangoes for weight loss lost around 13 pounds during a test that spanned 8 weeks.
Green Teas are great for weight loss because they help boost one's metabolic rate without causing the heart to work harder. Fat oxidation, lower bad cholesterol, better thermogenesis, helps you feel full and overall body health. No wonder the Chinese love and adore green tea.
L-Carnitine helps channel fat stores to be used as fuel by the body and has been linked to limiting one's cravings for food.
Product Features
Can help you lose weight. See results within first week of use. Results not typical.
Target fat stores all over the body
Helps suppress appetite to a bearable minimum. Just Potent Raspberry Ketones doesn't eliminate your appetite, but it keeps it under control and helps you feel full.
Experience increased metabolism, increased energy, and alertness. No jitters, crappy feelings!
Helps get rid of harmful toxins from the body
Helps promote healthy cardiovascular health and also helps reduce one's blood sugar level.
Excellent source of vitamin A, Iron, calcium, potassium, vitamin c, B vitamins 1-3, manganese, vitamin k, and magnesium.
All natural ingredients with no side effects and no artificial coloring or additives!
Ingredients
Raspberry Ketones: Unofficially certified as the #1 fat burner in America for 2012.
African Mango: African magic that performs wonders with fat burning, appetite suppression, thermogenesis, and a whole lot more
Green Tea: Help boost your metabolism, lowers the body's bad cholesterol and helps your body feel good and alert.
L-Carnitine: Channels fat stores to be used for energy.
Cocoa Extract: Promotes energy with no jitters and does not stimulate the central nervous system.
Safety Information
Do not exceed recommended serving size. Keep out of reach of children. Store in a cool, dry place. Do not use if the safety seal is broken or damaged. Not intended for use by pregnant or nursing women. If you're taking any medication or planning any medical procedure, consult your doctor before use. Discontinue use and consult your doctor if any adverse reactions occur.
How to use Just Potent Raspberry Ketones
Adults, take two (2) capsules daily as a dietary supplement.
________________________________________________________
Countries we ship to...
Among the countries we ship to are: Australia, Austria, Belgium, Canada, Cayman Islands, Denmark, Dominican Republic, Estonia, Finland, France, Germany, Greece, Guam, India, Ireland, Italy, Israel, Malaysia, Mexico, Netherlands, New Zealand, Norway, Panama, Poland, Portugal, Puerto Rico, Russian Federation, Saudi Arabia, South Africa, Spain, Sweden, Switzerland, United Arab Emirates, and Virgin Islands (U.S).
We practically can ship to anywhere in the world. If you do not see your country included in the list above, please contact us so we may be able to work with you.