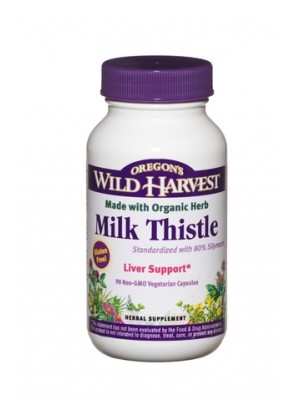 Milk Thistle by Oregon's Wild Harvest
(Discontinued)
Express Checkout
Milk Thistle by Oregon's Wild Harvest
Product Description
Milk thistle (Silybum marianum) has been around for many centuries and it is primarily known for its effectiveness when it comes to liver support and liver health. Other uses of the milk thistle include but not limited to: treatment of liver disorders such as cirrhosis and chronic hepatitis, and gallbladder disorders. Some use the milk thistle for †"lowering cholesterol levels, reducing insulin resistance in people who have both type 2 diabetes and cirrhosis, and reducing the growth of breast, cervical, and prostate cancer cells."
Product Features
Supports liver health
Can help with other ailments like high cholesterol levels
Might fight against cancerous cells responsible for breast, cervical, and prostate cancer.
Ingredients
Organic milk thistle (1260mg per serving)
Milk thistle seed -- powdered extract (240mg per serving)
Safety Information
Do not use this product if you're pregnant or nursing. Discontinue use if you experience unusual symptoms or if you experience mild gastrointestinal complaints or mild laxative effects. Do not exceed recommended serving size except under the direction of a health care professional.
Allergen: In extremely rare cases, acute allergic reactions have been observed. Individuals sensitive to sesquiterpene lactone-containing plants in the Daisy family food should use milk thistle supplements with caution.
How to use the milk thistle supplement
As a herbal supplement, take 3 capsules daily. Best if taken on an empty stomach.
________________________________________________________
Countries we ship to...
Among the countries we ship to are: Australia, Austria, Belgium, Canada, Cayman Islands, Denmark, Dominican Republic, Estonia, Finland, France, Germany, Greece, Guam, India, Ireland, Italy, Israel, Malaysia, Mexico, Netherlands, New Zealand, Norway, Panama, Poland, Portugal, Puerto Rico, Russian Federation, Saudi Arabia, South Africa, Spain, Sweden, Switzerland, United Arab Emirates, and Virgin Islands (U.S).
We practically can ship to anywhere in the world. If you do not see your country included in the list above, please contact us so we may be able to work with you.
Reference(s)
http://nccam.nih.gov/health/milkthistle/ataglance.htm?nav=gsa/