FREE SHIPPING
Free shipping on all orders.
MONEY BACK GUARANTEE
Not satisfied? Return for full refund.
ONLINE SUPPORT
Have questions? Get in touch!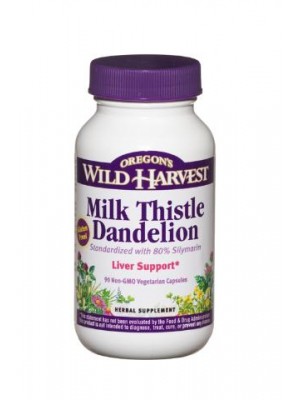 Milk Thistle Dandelion (organic) by Oregon's Wild Harvest
(Discontinued)
Express Checkout
Milk Thistle Dandelion (organic) by Oregon's Wild Harvest
Milk Thistle Dandelion (organic) by Oregon's Wild Harvest
Product Description
The Milk Thistle Dandelion is a mix of 4 organic herbs that may provide support for the liver. We already know milk thistle on its own has been widely used to treat liver disorders such as cirrhosis and chronic hepatitis, and gallbladder disorders. With the addition of organic dandelion root, organic burdock root, and organic artichoke leave, we're even more confident in the ability of this product to help rejuvenate ​your liver and help right the wrongs with regards to the health of your liver.
Product Features
Mix of four organic herbs for liver support.
Rich source of vitamins
Reduces cholesterol levels
Ingredients Breakdown
Organic milk thistle seed (300mg per serving): liver support
Milk this powdered extract (240mg per serving): liver support
Organic dandelion root (Taraxacum officinale) (240mg per serving): liver support and a rich source of vitamins A, B complex, C, and D, as well as minerals such as iron, potassium, and zinc.
Organic burdock root (240mg per serving): blood purifier and expeller of excess water in the body through increased urine output
Organic artichoke leaf (180mg per serving): helps reduce cholesterol levels
Safety Information
Do not use this product if you're pregnant or nursing. Not recommended for individuals diagnosed with inflammation of the gallbladder or bile duct obstruction. Discontinue use if you experience unusual symptoms or experience mild gastrointestinal complaints or mild laxative effects. Do not exceed recommended serving size except under the direction of a health care professional. Keep out of reach of children.
Allergen: individuals sensitive to sequiterpene lactone-containing plants in the Daisy family should use dandelion supplements with care.
How to use the milk thistle dandelion supplement
As an herbal supplement, take 3 capsules daily with food.
________________________________________________________
Countries we ship to...
Among the countries we ship to are: Australia, Austria, Belgium, Canada, Cayman Islands, Denmark, Dominican Republic, Estonia, Finland, France, Germany, Greece, Guam, India, Ireland, Italy, Israel, Malaysia, Mexico, Netherlands, New Zealand, Norway, Panama, Poland, Portugal, Puerto Rico, Russian Federation, Saudi Arabia, South Africa, Spain, Sweden, Switzerland, United Arab Emirates, and Virgin Islands (U.S).
We practically can ship to anywhere in the world. If you do not see your country included in the list above, please contact us so we may be able to work with you.
Reference(s)
http://www.umm.edu/altmed/articles/dandelion-000236.htm/
http://www.compmed.umm.edu/cochrane-reviews/cochrane-rev-artichoke-leaf.asp
http://www.umm.edu/altmed/articles/burdock-000227.htm