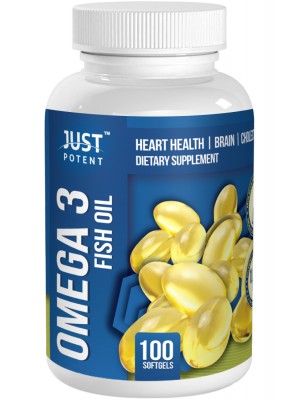 Omega 3 Fish Oil Supplement by Just Potent | 1000mg | Heart Health | Brain | Cholesterol
(Discontinued)
Express Checkout
Omega 3 Fish Oil Supplement by Just Potent | 1000mg | Heart Health | Brain | Cholesterol
Omega 3 Fish Oil Supplement by Just Potent | 1000mg | Heart Health | Brain | Cholesterol
Omega 3 fish oil contains two main fatty acids: docosahexaenoic acid (DHA) and eicosapentaenoic acid (EPA). These fatty acids are known to be of great benefits to us all and are particularly good at preventing heart disease and helping those with heart related diseases.
Studies after studies have shown that omega 3 fish oil to play an important role in the human body. The American Heart Association recommends that we take fish oil supplements at least twice weekly because doing so may prevent heart diseases and help people who already have a heart disease manage their disease better.
Product Features
Ingredients
See product image above.
Safety Information
Do not exceed recommended serving size. Keep out of reach of children. Store in a cool, dry place. Do not use if the safety seal is broken or damaged. Not intended for use by pregnant or nursing women. If you're taking any medication or planning any medical procedure, consult your doctor before use. Discontinue use and consult your doctor if any adverse reactions occur.
How to use the Just Potent Omega 3 Fish Oil Supplement
Adults, take one (1) softgel capsule two (2) times daily or as directed by a healthcare professional.
________________________________________________________
Countries we ship to...
Among the countries we ship to are: Australia, Austria, Belgium, Canada, Cayman Islands, Denmark, Dominican Republic, Estonia, Finland, France, Germany, Greece, Guam, India, Ireland, Italy, Israel, Malaysia, Mexico, Netherlands, New Zealand, Norway, Panama, Poland, Portugal, Puerto Rico, Russian Federation, Saudi Arabia, South Africa, Spain, Sweden, Switzerland, United Arab Emirates, and Virgin Islands (U.S).
We practically can ship to anywhere in the world. If you do not see your country included in the list above, please contact us so we may be able to work with you.