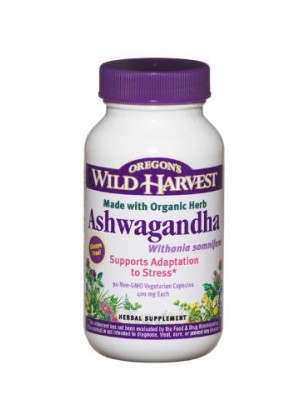 Organic Ashwagandha by Oregon's Wild Harvest
(Discontinued)
Express Checkout
Organic Ashwagandha by Oregon's Wild Harvest
Organic Ashwagandha by Oregon's Wild Harvest
Product Description
Ashwagandha (Withania somnifera) is a plant that has been used in Ayurvedic medicine for many generations. Ashwagandha lends it origin to India; this plant has been used for treating different ailments for generations. Numerous studies have backed the efficacy of Ashwagandha with regards to its ability to help the body relieve and adapt to stress. Some popular uses of the Ashwagandha herbs are: stress relieve, "arthritis, anxiety, insomnia, tumors, tuberculosis, asthma, a skin condition marked by white patchiness (leukoderma), bronchitis, backache, fibromyalgia, menstrual problems, hiccups, and chronic liver disease."
Other benefits of using Ashwagandha may be related to brain health (improved cognition), slow-down aging, and alleviating paid and swelling caused by an inflammation.
Product Features
Helps the body relieve and adapt to stress
Contains antioxidant that may be responsible for slowing aging
May be used to treat ailments like insomnia, tuberculosis, arthritis, liver diseases and many other.
Ingredients
Organic Ashwagandha root (1200 per serving)
Safety Information
Do not use this product if you're pregnant. Not recommended for use my nursing mothers until further research verifies there are no implications. Discontinue use if you experience unusual symptoms. Do not exceed recommended serving size except under the direction of a health care professional. Keep out of reach of children.
How to use the Ashwagandha supplement
As an herbal supplement, take 3 capsules daily with food or as directed by your physician.
________________________________________________________
Countries we ship to...
Among the countries we ship to are: Australia, Austria, Belgium, Canada, Cayman Islands, Denmark, Dominican Republic, Estonia, Finland, France, Germany, Greece, Guam, India, Ireland, Italy, Israel, Malaysia, Mexico, Netherlands, New Zealand, Norway, Panama, Poland, Portugal, Puerto Rico, Russian Federation, Saudi Arabia, South Africa, Spain, Sweden, Switzerland, United Arab Emirates, and Virgin Islands (U.S).
We practically can ship to anywhere in the world. If you do not see your country included in the list above, please contact us so we may be able to work with you.
Reference(s)
http://www.webmd.com/vitamins-supplements/ingredientmono-953-ASHWAGANDHA.aspx