FREE SHIPPING
Free shipping on all orders.
MONEY BACK GUARANTEE
Not satisfied? Return for full refund.
ONLINE SUPPORT
Have questions? Get in touch!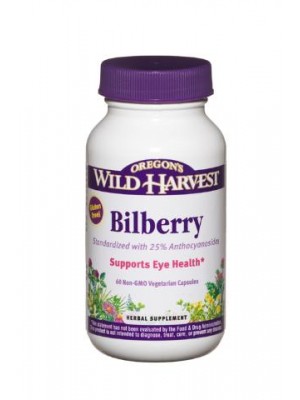 Organic Bilberry by Oregon's Wild Harvest
(Discontinued)
Express Checkout
Organic Bilberry by Oregon's Wild Harvest
Organic Bilberry by Oregon's Wild Harvest
Product Description
Bilberry is native to Europe and is related to blueberry. For centuries, bilberry has been used medicinally to treat different ailments and it has been shown to be effective at treating some problems like heart disease, macular degeneration (eye disorder) and a host of other problems.
Bilberry contains anthocyanosides. Anthocyanosides are chemicals that provide powerful antioxidant properties that help prevent damage to the cells in the body. Antioxidants help prevent aging and a whole lot of other benefits.
This organic bilberry can be used for eye health, antioxidant support, improved circulation, prevention of LDL (bad cholesterol) oxidation, treatment of cataracts and protection of the retina.
Product Features
Eye health support
Rich source of antioxidants
May help with other problems like diarrhea and intestinal inflammation
Ingredients
Organic bilberry fruit (640mg per serving)
Bilberry fruit extract -- standardized to 25% (160mg per serving)
Safety Information
Do not use this product if you're pregnant or nursing. Discontinue use if you experience unusual symptoms. Do not exceed recommended serving size except under the direction of a health care professional. Keep out of reach of children.
How to use the bilberry supplement
As an herbal supplement, take 2 capsules daily with food.
________________________________________________________
Countries we ship to...
Among the countries we ship to are: Australia, Austria, Belgium, Canada, Cayman Islands, Denmark, Dominican Republic, Estonia, Finland, France, Germany, Greece, Guam, India, Ireland, Italy, Israel, Malaysia, Mexico, Netherlands, New Zealand, Norway, Panama, Poland, Portugal, Puerto Rico, Russian Federation, Saudi Arabia, South Africa, Spain, Sweden, Switzerland, United Arab Emirates, and Virgin Islands (U.S).
We practically can ship to anywhere in the world. If you do not see your country included in the list above, please contact us so we may be able to work with you.
Reference(s)
http://www.umm.edu/altmed/articles/bilberry-000225.htm/