FREE SHIPPING
Free shipping on all orders.
MONEY BACK GUARANTEE
Not satisfied? Return for full refund.
ONLINE SUPPORT
Have questions? Get in touch!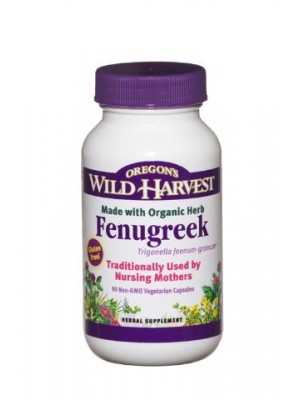 Organic Fenugreek by Oregon's Wild Harvest
(Discontinued)
Express Checkout
Organic Fenugreek by Oregon's Wild Harvest
Organic Fenugreek by Oregon's Wild Harvest
Product Description
The first use of Fenugreek dates back to 1500 B.C. Fenugreek is commonly used for cooking and for treatment of health conditions like menopausal symptoms and digestive problems. "Today, fenugreek is used as a folk or traditional remedy for diabetes and loss of appetite, and to stimulate milk production in breastfeeding women. It is also applied to the skin for inflammation. The dried seeds are ground and taken by mouth or used to form a paste that is applied to the skin."
Product Features
Supports digestive and respiratory health
Can help with other ailments like appetite loss, and lactation in nursing mothers.
Ingredients
Organic Fenugreek seed (1500mg per serving)
Safety Information
Do not use this product if you're pregnant. Fenugreek is generally safe, but it is advised to monitor blood sugar levels if taking prescribed diabetic medication. Individuals taking anticoagulant medication should consult their health care professional before use. Do not exceed recommended serving size except under the direction of a health care professional. Keep out of reach of children.
Allergen: Do not take this product if you're allergic to plants from the Leguminosae family, such as chickpeas.
How to use the milk thistle supplement
As an herbal supplement, take 3 capsules daily, or as directed by your health care professional.
________________________________________________________
Countries we ship to...
Among the countries we ship to are: Australia, Austria, Belgium, Canada, Cayman Islands, Denmark, Dominican Republic, Estonia, Finland, France, Germany, Greece, Guam, India, Ireland, Italy, Israel, Malaysia, Mexico, Netherlands, New Zealand, Norway, Panama, Poland, Portugal, Puerto Rico, Russian Federation, Saudi Arabia, South Africa, Spain, Sweden, Switzerland, United Arab Emirates, and Virgin Islands (U.S).
We practically can ship to anywhere in the world. If you do not see your country included in the list above, please contact us so we may be able to work with you.
Reference(s)
http://nccam.nih.gov/health/fenugreek/