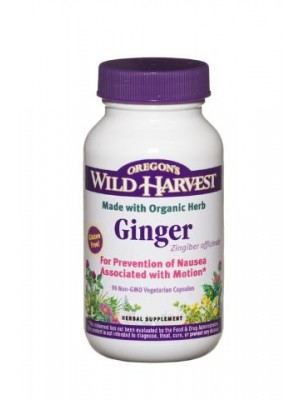 Organic Ginger by Oregon's Wild Harvest
(Discontinued)
Express Checkout
Organic Ginger by Oregon's Wild Harvest
Organic Ginger by Oregon's Wild Harvest
Product Description
Ginger is a tropical plant mostly known for its use in cooking and as a medicinal herb. Preliminary research has shown that ginger contains about nine compounds that may be helpful in binding human serotin receptors which ultimately might have effect on gastrointestinal functions. Other research suggests ginger might help control the quantity of free radicals and peroxidation of lipids.
Product Features
May be very effective against nausea caused by seasickness, morning sickness and chemotherapy
Consuming ginger might help ease muscle pain associated with exercising by up to 25 percent.
Might help against rheumatoid arthritis, osteoarthritis, or joint and muscle pain.
Ingredients
Organic ginger rhizone (1500mg per serving)
Safety Information
Do not exceed recommended serving size unless under the guidance of a health care professional. Do not use if pregnant or nursing unless under the guidance of a health care professional. Keep out of reach of children. Discontinue use if unusual symptoms occur.
How to use the organic ginger supplement
As an herbal supplement, take 3 capsules daily with a small meal. For travel, take up to 4 capsules daily as needed.
________________________________________________________
Countries we ship to...
Among the countries we ship to are: Australia, Austria, Belgium, Canada, Cayman Islands, Denmark, Dominican Republic, Estonia, Finland, France, Germany, Greece, Guam, India, Ireland, Italy, Israel, Malaysia, Mexico, Netherlands, New Zealand, Norway, Panama, Poland, Portugal, Puerto Rico, Russian Federation, Saudi Arabia, South Africa, Spain, Sweden, Switzerland, United Arab Emirates, and Virgin Islands (U.S).
We practically can ship to anywhere in the world. If you do not see your country included in the list above, please contact us so we may be able to work with you.
Reference(s)
http://nccam.nih.gov/health/ginger
http://en.wikipedia.org/wiki/Ginger