FREE SHIPPING
Free shipping on all orders.
MONEY BACK GUARANTEE
Not satisfied? Return for full refund.
ONLINE SUPPORT
Have questions? Get in touch!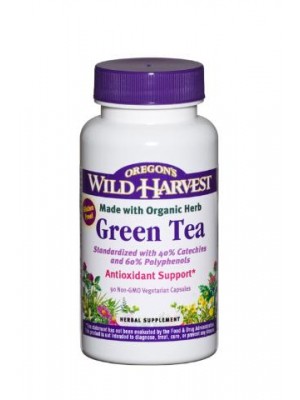 Green Tea Capsules (organic) by Oregon's Wild Harvest
(Out Of Stock)
Express Checkout
Green Tea Capsules (organic) by Oregon's Wild Harvest
Green Tea Capsules (organic) by Oregon's Wild Harvest
Product Description
Green tea has been around for hundreds of years. The Indians and the Chinese were the earliest drinkers and scientists have studied the inherent properties of the green tea. Green tea as we know it, may be effective for many ailments and beneficial to the body in a lot of ways. Green tea contains a powerful dose of antioxidants(polyphenols) that are responsible for fighting free radicals. "In traditional Chinese and Indian medicine, practitioners used green tea as a stimulant, a diuretic (to help rid the body of excess fluid), an astringent (to control bleeding and help heal wounds), and to improve heart health. Other traditional uses of green tea include treating gas, regulating body temperature and blood sugar, promoting digestion, and improving mental processes."
Studies on green tea show it might be effective for these conditions: high cholesterol, heart diseases by lowering cholesterol and triglyceride levels, diabetes, liver diseases, weight loss, cancer(skin, prostate, stomach, lung, bladder, breast, ovarian, and many other cancer types).
Product Features
May help with weight loss by burning fat and lowering appetite
Powerful antioxidant: The antioxidant found in green tea surpasses that found in vitamin C
Standardized to provides 50mg of EGCG and 110mg of Polyphenols
Ingredients
Organic green tea (1440mg per serving)
Organic green tea extract (50mg EGCG, 110mg polyphenols)
Safety Information
Do not use this product if you're pregnant or nursing. Discontinue use if you experience unusual symptoms. Individuals who experience mild gastrointestinal upset or headaches should discontinue use. Do not exceed recommended serving size except under the direction of a health care professional. Keep out of reach of children. The green tea contains natural caffeine. Each capsule supplies approximately 1/10th of the coffee found in a cup of coffee.
How to use the green tea supplement
As an herbal supplement, take 3 capsules daily with light meal.
Frequently Asked Questions (FAQ)
Can your product be shipped to countries outside of the U.S?
Yes, we offer shipping to many international destinations. Among the countries that we ship to are: Australia, Austria, Belgium, Cayman Islands, Denmark, Dominican Republic, Estonia, Finland, France, Germany, Greece, Guam, India, Ireland, Italy, Israel, Malaysia, Mexico, Netherlands, New Zealand, Norway, Panama, Poland, Portugal, Puerto Rico, Russian Federation, Saudi Arabia, South Africa, Spain, Sweden, Switzerland, United Arab Emirates, and Virgin Islands (U.S).
We practically can ship to anywhere in the world. If you do not see your country included in the list above, please contact us so we may be able to work with you.
Reference(s)
http://www.umm.edu/altmed/articles/green-tea-000255.htm/