FREE SHIPPING
Free shipping on all orders.
MONEY BACK GUARANTEE
Not satisfied? Return for full refund.
ONLINE SUPPORT
Have questions? Get in touch!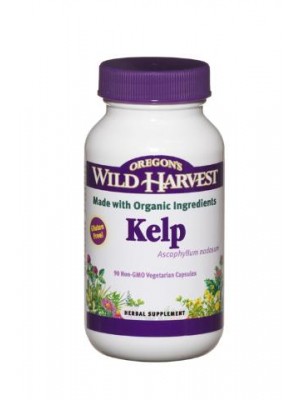 Organic Kelp by Oregon's Wild Harvest
(Discontinued)
Express Checkout
Organic Kelp by Oregon's Wild Harvest
Product Description
This organic kelp is a good source of iodine. The body needs iodine in order to create thyroid hormones. These hormones are vital human growth and development. Iodine can be found in in different parts of the body but the most concentration of iodine is found in one's thyroid gland.
Iodine deficiency can lead to low thyroid hormone levels. Additionally, being deficient in iodine could lead to sluggishness, fatigue, weight gain, dry skin, sensitivity to temperature changes and a whole lot of other problems.
If you're deficient in iodine or your iodine level is low, we highly suggest using kelp as a supplement. If you're looking to lose weight, using kelp along with other weight loss products can ensure that your metabolism is active and ready to be put to work to break down those hard to digest foods.
Product Features
Iodine support
May help with weight loss by boosting one's metabolism
Ingredients
Organic kelp (600mg per serving)
Safety Information
Consult our health care professional if you're kelp for thyroid imbalance. Keep out of reach of Children. Do not use this product if you're pregnant or nursing. Discontinue use if you experience unusual symptoms. Do not exceed recommended serving size except under the direction of a health care professional. Not recommended for long term use without periodic breaks.
Allergen: A small percentage of people are sensitive to iodine and could develop a painful and enlarged thyroid gland if they consume iodine rich substances such as kelp for longer than one month. Please take with caution if you plan to use kelp for a long time.
How to use the kelp supplement
As an herbal supplement, take 1 capsule daily with or without food.
________________________________________________________
Countries we ship to...
Among the countries we ship to are: Australia, Austria, Belgium, Canada, Cayman Islands, Denmark, Dominican Republic, Estonia, Finland, France, Germany, Greece, Guam, India, Ireland, Italy, Israel, Malaysia, Mexico, Netherlands, New Zealand, Norway, Panama, Poland, Portugal, Puerto Rico, Russian Federation, Saudi Arabia, South Africa, Spain, Sweden, Switzerland, United Arab Emirates, and Virgin Islands (U.S).
We practically can ship to anywhere in the world. If you do not see your country included in the list above, please contact us so we may be able to work with you.
Reference(s)
http://www.umm.edu/altmed/articles/iodine-000308.htm/