FREE SHIPPING
Free shipping on all orders.
MONEY BACK GUARANTEE
Not satisfied? Return for full refund.
ONLINE SUPPORT
Have questions? Get in touch!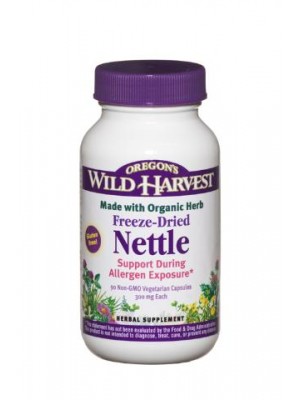 Organic Nettle by Oregon's Wild Harvest
(Discontinued)
Express Checkout
Organic Nettle by Oregon's Wild Harvest
Organic Nettle by Oregon's Wild Harvest
Product Description
Nettle (urtica dioica) is an herb that has been around for centuries. Nettle is popular among people who are looking for an effective herb to ease pain in the muscles and joints caused by arthritis and gout. Nettle is also good for easing allergen exposure.
Product Features
Support during allergen exposure without the side effects caused by popular brands
Can help with other ailments like ulcers, intestinal inflammation, and hemorrhoids
Might fight against prostate cancer and some other types of cancer.
Rich in vitamin K.
Ingredients
Organic nettle (freeze dried tops) (600mg per serving)
Safety Information
Use with caution if pregnant or nursing. Discontinue use if you experience unusual symptoms. Do not exceed recommended serving size except under the direction of a health care professional. Keep out of reach of children.
How to use the milk thistle supplement
As an herbal supplement, take 2 capsules twice daily. 4 capsules may be required for best results.
Warning: If you have never taken nettles and are prone to allergies, it is recommended to take one capsule and then wait 24 hours before using the next recommended dose.
________________________________________________________
Countries we ship to...
Among the countries we ship to are: Australia, Austria, Belgium, Canada, Cayman Islands, Denmark, Dominican Republic, Estonia, Finland, France, Germany, Greece, Guam, India, Ireland, Italy, Israel, Malaysia, Mexico, Netherlands, New Zealand, Norway, Panama, Poland, Portugal, Puerto Rico, Russian Federation, Saudi Arabia, South Africa, Spain, Sweden, Switzerland, United Arab Emirates, and Virgin Islands (U.S).
We practically can ship to anywhere in the world. If you do not see your country included in the list above, please contact us so we may be able to work with you.
Reference(s)
http://www.nhm.ac.uk/nature-online/species-of-the-day/scientific-advances/disease/urtica-dioica/index.html