FREE SHIPPING
Free shipping on all orders.
MONEY BACK GUARANTEE
Not satisfied? Return for full refund.
ONLINE SUPPORT
Have questions? Get in touch!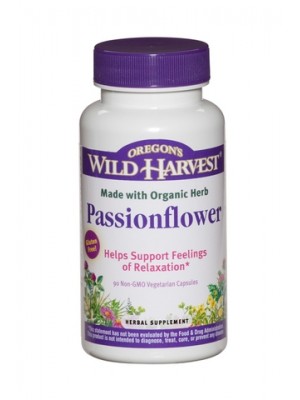 Organic Passionflower by Oregon's Wild Harvest
(Discontinued)
Express Checkout
Organic Passionflower by Oregon's Wild Harvest
Organic Passionflower by Oregon's Wild Harvest
Product Description
Passionflower (Passiflora incarnata) is an herb that has been around for a long time. Traditionally used in the Americas, passionflower has gained widespread usage in Europe and other parts of the world. Primarily, passionflower is used as a calming herb for anxiety, insomnia, seizures, hysteria, and other ailments. Gamma aminobutyric acid (GABA) is present in the brain and some people may be low in GABA levels. Passionflower helps increase GABA level in the brain and this in-turn reduces the activity of some brain cells responsible for stress. Ultimately, you feel relaxed taking passionflower.
The effects of passionflower tend to be milder than valerian (Valeriana officinalis) or kava (Piper methysticum), 2 other herbs used to treat anxiety. Passionflower is often combined with valerian, lemon balm (Melissa officinalis), or other calming herbs. "One study of 36 people with generalized anxiety disorder found that passionflower was as effective as the drug oxazepam (Serax) for treating symptoms. However, the study lacked a placebo group, so it is not considered to be definitive. In another study of 91 people with anxiety symptoms, researchers found that an herbal European product containing passionflower and other herbal sedatives significantly reduced symptoms compared to placebo. A more recent study found that patients who were given passionflower before surgery had less anxiety, but recovered from anesthesia just as quickly, than those given placebo"
Product Features
Supports feeling of relaxation and calmness
May Increase GABA levels in the brain
Might help with anxiety, insomnia, seizures, hysteria, and other ailments
May be used as a nerve soother and sleep aid
Ingredients
Organic passionflower (800mg per serving)
Safety Information
Do not use this product if you're pregnant or nursing. Discontinue use if you experience unusual symptoms. Do not exceed recommended serving size except under the direction of a health care professional. Keep out of reach of children.
Warning: Avoid driving or operating heavy machinery while taking passionflower as drowsiness may occur
How to use the passionflower supplement
As an herbal supplement, take 2-4 capsules daily with or without food.
________________________________________________________
Countries we ship to...
Among the countries we ship to are: Australia, Austria, Belgium, Canada, Cayman Islands, Denmark, Dominican Republic, Estonia, Finland, France, Germany, Greece, Guam, India, Ireland, Italy, Israel, Malaysia, Mexico, Netherlands, New Zealand, Norway, Panama, Poland, Portugal, Puerto Rico, Russian Federation, Saudi Arabia, South Africa, Spain, Sweden, Switzerland, United Arab Emirates, and Virgin Islands (U.S).
We practically can ship to anywhere in the world. If you do not see your country included in the list above, please contact us so we may be able to work with you.
Reference(s)
http://www.umm.edu/altmed/articles/passionflower-000267.htm/