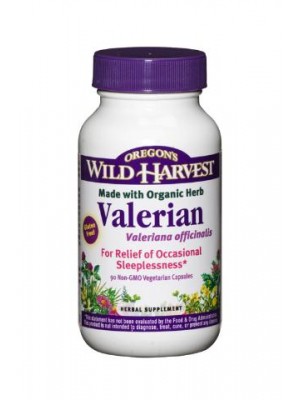 Organic Valerian by Oregon's Wild Harvest
(Discontinued)
Express Checkout
Organic Valerian by Oregon's Wild Harvest
Organic Valerian by Oregon's Wild Harvest
Product Description
For those who suffer from insomnia, Valerian (valeriana officinalis) has some good research backing its effectiveness in battling this problem. Aside from using Valerian as a sleep aid, it is also known to be good for other ailments like anxiety and psychological stress including nervous asthma, hysterical states, excitability, fear of illness (hypochondria), headaches, migraine, and stomach upset.
For those who are trying to withdraw from the use of prescription sleeping pills, Valerian can be a very good and effective substitute. Valerian has been studied for its ability to help fight depression, mild tremors, epilepsy, attention deficit-hyperactivity disorder (ADHD), and chronic fatigue syndrome (CFS). Some even use Valerian for easing muscle pains and joint pain. Some women use valerian for menstrual cramps and symptoms associated with menopause, including hot flashes and anxiety.
Product Features
Helps you get good sleep
Can be effective for other ailments like stress, headache, migraine, and upset stomach.
Ingredients
Organic Valerian root (900mg per serving)
Safety Information
Individuals taking prescription sedatives should consult their health care professional before taking this supplement. Discontinue use 2 weeks prior to scheduled surgery and inform surgeon. Do not use this product if you're pregnant or nursing. Discontinue use if you experience unusual symptoms. Do not exceed recommended serving size except under the direction of a health care professional.
Warning: Excessive consumption may impair one's ability to drive or operate heavy machinery.
How to use the Valerian supplement
As an herbal supplement, take 2 capsules with or without food. Best if taken 1-2 hours before bed.
________________________________________________________
Countries we ship to...
Among the countries we ship to are: Australia, Austria, Belgium, Canada, Cayman Islands, Denmark, Dominican Republic, Estonia, Finland, France, Germany, Greece, Guam, India, Ireland, Italy, Israel, Malaysia, Mexico, Netherlands, New Zealand, Norway, Panama, Poland, Portugal, Puerto Rico, Russian Federation, Saudi Arabia, South Africa, Spain, Sweden, Switzerland, United Arab Emirates, and Virgin Islands (U.S).
We practically can ship to anywhere in the world. If you do not see your country included in the list above, please contact us so we may be able to work with you.
Reference(s)
http://www.nlm.nih.gov/medlineplus/druginfo/natural/870.html