FREE SHIPPING
Free shipping on all orders.
MONEY BACK GUARANTEE
Not satisfied? Return for full refund.
ONLINE SUPPORT
Have questions? Get in touch!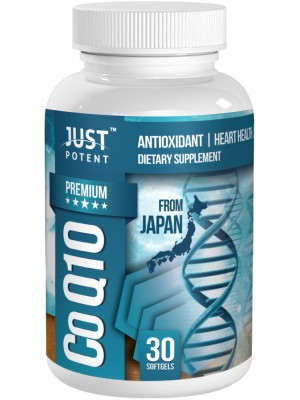 Premium CoQ10 ( Ubiquinone) Supplement by Just Potent | 200mg per Capsule | Antioxidant | Heart Health | Energy
(Discontinued)
Express Checkout
Premium CoQ10 ( Ubiquinone) Supplement by Just Potent | 200mg per Capsule | Antioxidant | Heart Health | Energy
Premium CoQ10 ( Ubiquinone) Supplement by Just Potent | 200mg per Capsule | Antioxidant | Heart Health | Energy
Product Description
What is CoQ10?
CoQ10, also known as Coenzyme Q10 is a substance produced by the body and very similar to a vitamin. CoQ10 as we may know is used by the cells in our body for energy production; they are also responsible for the growth and maintenance of cells in the body. CoQ10 are generally available in two forms ( ubiquinol and ubiquinone ). There have been numerous take on which one is more effective. The truth is they're about the same in terms of their effectiveness and absorption. But, it must be stated that Ubiquinol has a very slight advantage in absorption levels over Ubiquinone. Ubiquinone on the other hand, is very stable, provides more energy and has been shown consistently in various studies to be the preferred choice by doctors and researchers alike.
Why CoQ10?
There are numerous benefits that comes with CoQ10 supplementation. CoQ10 is great for heart health. Research after research has backed its efficacy in assuring circulatory health, functioning of the hearth muscle, controlling bad cholesterol, eliminating free radicals that may be harmful to the body, migraine headaches, energy, and the list goes on. Supplementation of CoQ10 has a lot of benefits and research are ongoing on its other benefits.
Product Features
Overall heart health*
Shown to be three times more bioavailable when delivered in an oil-based softgel capsule*
Rich source of antioxidant that fights against free radicals*
Helps regulate bad cholesterol*
Provides energy and helpful against migraine headaches*
Ingredients
See product image above.
Safety Information
Do not exceed recommended serving size. Keep out of reach of children. Store in a cool, dry place. Do not use if the safety seal is broken or damaged. Not intended for use by pregnant or nursing women. If you're taking any medication or planning any medical procedure, consult your doctor before use. Discontinue use and consult your doctor if any adverse reactions occur.
How to use the Just Potent Coenzyme Q10 Supplement
Adults, take one (1) capsule daily once or twice daily with meal or as directed by a healthcare professional.
________________________________________________________
Countries we ship to...
Among the countries we ship to are: Australia, Austria, Belgium, Canada, Cayman Islands, Denmark, Dominican Republic, Estonia, Finland, France, Germany, Greece, Guam, India, Ireland, Italy, Israel, Malaysia, Mexico, Netherlands, New Zealand, Norway, Panama, Poland, Portugal, Puerto Rico, Russian Federation, Saudi Arabia, South Africa, Spain, Sweden, Switzerland, United Arab Emirates, and Virgin Islands (U.S).
We practically can ship to anywhere in the world. If you do not see your country included in the list above, please contact us so we may be able to work with you.