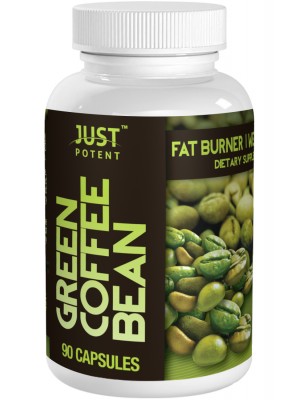 Green Coffee Bean Extract by Just Potent | 50% Chlorogenic Acid | 800mg Per Serving
(In Stock)
Express Checkout
Green Coffee Bean Extract by Just Potent | 50% Chlorogenic Acid | 800mg Per Serving
Green Coffee Bean Extract by Just Potent | 50% Chlorogenic Acid | 800mg Per Serving
Green Coffee Bean Extract by Just Potent | 50% Chlorogenic Acid | 800mg Per Serving
5
4
In Stock
Product Description
Just Potent Pure Green Coffee Bean is your go-to supplement to burn fat with or without exercise or dieting. Our formulation contains no additives or fillers. You get 100 percent potent and pure green coffee bean extract. With numerous studies backing the efficacy of green coffee bean as a potent fat burner, you can't go wrong choosing this revolutionary product as your preferred weight loss supplement.
It is a known fact that coffees contain a lot of caffeine which causes jittery and in some cases causes you to be nervous, or even cause your heart rate to beat abnormally. With unroasted green coffee bean, these symptoms are eliminated. With this potent green coffee bean, your heart rate will remain normal, you will gain enough energy without any jittery or nervousness, and you will be losing weight without any special diet or exercise.
So how does the green coffee bean help you lose weight? The answer is simple. Green coffee bean contains a compound known as chlorogenic acid. This compound cannot be found in most coffee beans because of the way they are processed and roasted. With pure green coffee bean extract from Just Potent, you don't have to worry about losing this important compound that helps burn fat effectively. "The key ingredient in the green coffee bean is a very important natural active compound called chlorogenic acid. Chlorogenic acid works by inhibiting the release of glucose in the body, while at the same time boosting the metabolism or the "burning" of fat in the liver. These two mechanisms work together to inhibit the absorption of fat and eliminate weight gain."
Product Features
Can help you lose weight. See results within first week of use. Results not typical.
Target fat stores all over the body
Helps lower blood pressure while at the same time boosting your metabolism
Helps suppress appetite to a bearable minimum. Just Potent Green Coffee Bean doesn't eliminate your appetite, but it keeps it under control and helps you feel full.
Experience increased metabolism, increased energy, and alertness. No jitters or crappy feelings!
All natural ingredients with no side effects and no artificial coloring, fillings, binders, or additives!
Ingredients
Pure Green Coffee Bean Extract -- 100% pure. Each capsule contains 400mg of pure green coffee bean extract. Taking 2 capsules daily will satisfy your recommended daily intake of 800mg.
Safety Information
Do not exceed recommended serving size. Keep out of reach of children. Store in a cool, dry place. Do not use if the safety seal is broken or damaged. Not intended for use by pregnant or nursing women. If you're taking any medication or planning any medical procedure, consult your doctor before use. Discontinue use and consult your doctor if any adverse reactions occur.
How to use Just Potent Green Coffee Bean Supplement
Adults, take two (2) capsules daily as a dietary supplement. Must be taken 30 minutes before breakfast or lunch.
________________________________________________________
Countries we ship to...
Among the countries we ship to are: Australia, Austria, Belgium, Canada, Cayman Islands, Denmark, Dominican Republic, Estonia, Finland, France, Germany, Greece, Guam, India, Ireland, Italy, Israel, Malaysia, Mexico, Netherlands, New Zealand, Norway, Panama, Poland, Portugal, Puerto Rico, Russian Federation, Saudi Arabia, South Africa, Spain, Sweden, Switzerland, United Arab Emirates, and Virgin Islands (U.S).
We practically can ship to anywhere in the world. If you do not see your country included in the list above, please contact us so we may be able to work with you.