FREE SHIPPING
Free shipping on all orders.
MONEY BACK GUARANTEE
Not satisfied? Return for full refund.
ONLINE SUPPORT
Have questions? Get in touch!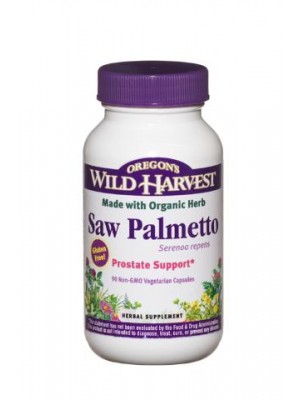 Saw Palmetto by Oregon's Wild Harvest
(Discontinued)
Express Checkout
Saw Palmetto by Oregon's Wild Harvest
Saw Palmetto by Oregon's Wild Harvest
Product Description
Saw palmetto is great for prostate health and prostate health support. For people diagnosed with Benign Prostatic Hypertrophy (BPH), saw palmetto may be the answer as it has been clinically proven to be effective. Other uses of saw palmetto include but not limited to the following: prostate infections, prostate cancer, colds and coughs, sore throat, asthma, chronic bronchitis, chronic pelvic pain syndrome, and migraine headache. Some other benefits of saw palmetto: it is sometimes used to promote relaxation (sedative), increase the flow of urine (diuretic), and enhance sexual drive (aphrodisiac).
Product Features
Prostate health and support
100% all-natural saw palmetto -- certified organic.
No added ingredients. Straight up pure saw palmetto in 100% non-GMO vegetarian capsule.
Ingredients
Organic saw palmetto berry (1170mg per serving)
Safety Information
Do not exceed recommended serving size unless under the guidance of a health care professional. Do not use if pregnant or nursing. Keep out of reach of children. Discontinue use if unusual symptoms occur.Women should consult with their health care professional before using saw palmetto, particularly if taking hormonal preparations including birth control, ERT, HRT, or progesterone drugs. Although rare, some may experience gastrointestinal discomfort while taking saw palmetto.
How to use Saw Palmetto Supplement
As an herbal supplement, take 2 capsules twice daily with food. For best results, this supplement should be taken for at least 2 months.
________________________________________________________
Countries we ship to...
Among the countries we ship to are: Australia, Austria, Belgium, Canada, Cayman Islands, Denmark, Dominican Republic, Estonia, Finland, France, Germany, Greece, Guam, India, Ireland, Italy, Israel, Malaysia, Mexico, Netherlands, New Zealand, Norway, Panama, Poland, Portugal, Puerto Rico, Russian Federation, Saudi Arabia, South Africa, Spain, Sweden, Switzerland, United Arab Emirates, and Virgin Islands (U.S).
We practically can ship to anywhere in the world. If you do not see your country included in the list above, please contact us so we may be able to work with you.

Reference(s)
http://www.nlm.nih.gov/medlineplus/druginfo/natural/971.html