FREE SHIPPING
Free shipping on all orders.
MONEY BACK GUARANTEE
Not satisfied? Return for full refund.
ONLINE SUPPORT
Have questions? Get in touch!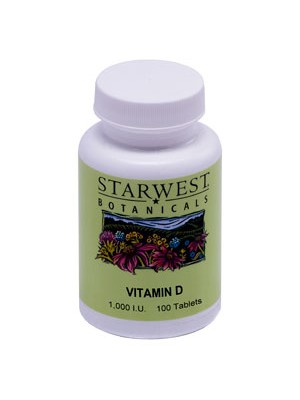 Vitamin D by Starwest Botanicals
(Discontinued)
Express Checkout
Vitamin D by Starwest Botanicals
Product Description
Vitamin D is an essential nutrient that promotes strong bones. Vitamin D helps the body take in calcium(part of the foundation of the human bone) either from supplements or certain foods high in calcium. If one is vitamin D deficient, they may suffer from weak bones.
†"Vitamin D is important to the body in many other ways as well. Muscles need it to move, for example, nerves need it to carry messages between the brain and every body part, and the immune system needs vitamin D to fight off invading bacteria and viruses. Together with calcium, vitamin D also helps protect older adults from osteoporosis. Vitamin D is found in cells throughout the body."
Product Features
Helps strengthen the bones
Can help wade off bacteria and viruses
Helps protect older adults from osteoporosis
Ingredients
Vitamin D3 (as Cholecalciferol) 1,000 IU and Calsium 117mn
Safety Information
If you're pregnant and/or nursing, consult with your health care professional before use. Discontinue use if you experience unusual symptoms. Not suitable for vegetarians. Do not exceed recommended serving size except under the direction of a health care professional. Keep out of reach of children.
How to use the vitamin D supplement
Adults, take 1 tablet daily, preferably with meal.
________________________________________________________
Countries we ship to...
Among the countries we ship to are: Australia, Austria, Belgium, Canada, Cayman Islands, Denmark, Dominican Republic, Estonia, Finland, France, Germany, Greece, Guam, India, Ireland, Italy, Israel, Malaysia, Mexico, Netherlands, New Zealand, Norway, Panama, Poland, Portugal, Puerto Rico, Russian Federation, Saudi Arabia, South Africa, Spain, Sweden, Switzerland, United Arab Emirates, and Virgin Islands (U.S).
We practically can ship to anywhere in the world. If you do not see your country included in the list above, please contact us so we may be able to work with you.
Reference(s)
http://vsearch.nlm.nih.gov/vivisimo/cgi-bin/query-meta?v%3Aproject=medlineplus&query=vitamin+D&x=0&y=0/