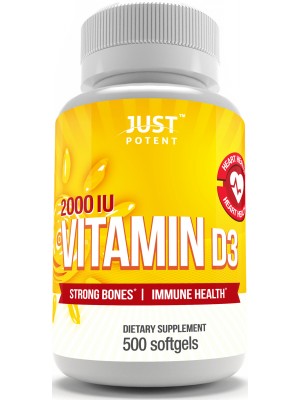 Vitamin D3 Supplement | 500 Softgels | 2,000 IU | Better Mood | Bones & Teeth Health
(In Stock)
Express Checkout
Vitamin D3 Supplement | 500 Softgels | 2,000 IU | Better Mood | Bones & Teeth Health
Vitamin D3 Supplement | 500 Softgels | 2,000 IU | Better Mood | Bones & Teeth Health
Benefits and Features
100% honesty-backed ingredients and product label
Great for strong bones and immune health

500 tiny softgels for almost 2 years of supply

Excellent for your nervous system, brain functions, and muscles

Slows down certain eye ailments which causes blurred or loss of vision.

---
FREE Shipping
60-Day Money Back Guarantee
Awesome Customer Service
We manufactured the Just Potent Vitamin D3 supplement with one main goal in mind: quality. The Just Potent Vitamin D3 has been manufactured with as minimal ingredients as possible so you can experience the true benefit of using a D3 supplement without all the additives common in popular and national brands.
Vitamin D3 for all the right reasons is uber-beneficial to life. The benefits derived from vitamin D3 are undisputable and most definitely, unquantifiable. Numerous studies across America and Europe have backed the need for vitamin D3 supplementation. Majority of us need vitamin D3 for two main reasons; we can't get enough vitamin D from food sources and majority of us certainly don't get enough from the sun.
Why Vitamin D3?
We simply cannot get the recommended daily value of vitamin D from most foods. The easiest way to get your recommended daily value of vitamin D3 from food will be to eat 4oz - 6oz of salmon every single day. The question now is: would you rather eat salmon every single day or take one tiny pill? Besides comfort, it just makes health and economic sense to choose the Just Potent Vitamin D3.
Vitamin D deficiency is real. If you're not getting enough time in the sun (which may be dangerous by the way), and if you're not eating enough salmon every single day, you need the Just Potent Vitamin D3.
Why Just Potent Vitamin D3?
At Just Potent, we take great pride in formulating only the best supplements. The Just Potent name came about with that in mind; providing potent supplements without all the unnecessary added ingredients. When you choose Just Potent Vitamin D3, you get nothing but the best vitamin D3 there is.
The Just Potent Vitamin D3 delivers the same active vitamin D3 your body produces from exposure to the sun, without the risks that sun exposure may have on your skin. Although many believe they may be getting sufficient amount of D3 from the sun, studies have shown most people are not getting the recommended amount.
Studies have also shown that the average amount of time we spend outside the house has decreased dramatically as we are staying indoors more than ever before. The Just Potent Vitamin D3 is a tiny softgel, when taken daily, will provide you with all the D3 your body needs. With 500 softgels, you're are looking at 500 days of uninterrupted supply of vitamin D to your body with ABSOLUTELY no side effects.
Ingredients
See product image above.
Safety Information
Do not exceed recommended serving size. Keep out of reach of children. Store in a cool, dry place. Do not use if the safety seal is broken or damaged. Not intended for use by pregnant or nursing women. If you're taking any medication or planning any medical procedure, consult your doctor before use. Discontinue use and consult your doctor if any adverse reactions occur.
How to use the Just Potent Vitamin D3 Supplement
Adults, take one (1) softgel daily with or without meal, or as directed by a healthcare professional.
source: http://ods.od.nih.gov/factsheets/VitaminD-Consumer/