FREE SHIPPING
Free shipping on all orders.
MONEY BACK GUARANTEE
Not satisfied? Return for full refund.
ONLINE SUPPORT
Have questions? Get in touch!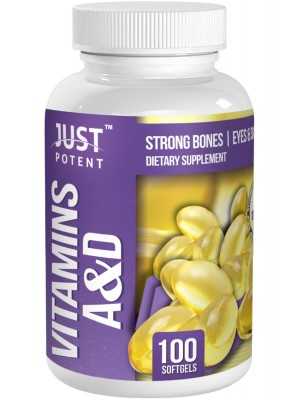 Vitamins A & D Supplement by Just Potent | Strong Bones | Eyes & Skin | 100 Softgels
(Discontinued)
Express Checkout
Vitamins A & D Supplement by Just Potent | Strong Bones | Eyes & Skin | 100 Softgels
Vitamins A & D Supplement by Just Potent | Strong Bones | Eyes & Skin | 100 Softgels
Product Description
We all need our vitamins! Vitamin A has a lot of benefits and the lack of it in our bodies may result to problems like infectious diseases and vision problems. Too much Vitamin A in the body on the other hand could cause some bad side effects as well. So taking your Vitamin A in the right amount is important.
The Just Potent Vitamins A & D as the name implies is a combination of Vitamin A and Vitamin D. The combination of these vitamins means you're getting the best of both worlds in a single capsule.
Product Features
Helps with good/improved vision*
Helps maintain healthy skin, teeth*
Good for reproduction and women who are breastfeeding*
Helps the body absorb calcium which is essential for strong bones and bone formation*
Ingredients
See product image above.
Safety Information
Do not exceed recommended serving size. Keep out of reach of children. Store in a cool, dry place. Do not use if the safety seal is broken or damaged. Not intended for use by pregnant or nursing women. If you're taking any medication or planning any medical procedure, consult your doctor before use. Discontinue use and consult your doctor if any adverse reactions occur.
How to use the Just Potent Vitamins A & D Supplement
Adults, take one (1) softgel capsule daily with meal or as directed by a healthcare professional.
________________________________________________________
Countries we ship to...
Among the countries we ship to are: Australia, Austria, Belgium, Canada, Cayman Islands, Denmark, Dominican Republic, Estonia, Finland, France, Germany, Greece, Guam, India, Ireland, Italy, Israel, Malaysia, Mexico, Netherlands, New Zealand, Norway, Panama, Poland, Portugal, Puerto Rico, Russian Federation, Saudi Arabia, South Africa, Spain, Sweden, Switzerland, United Arab Emirates, and Virgin Islands (U.S).
We practically can ship to anywhere in the world. If you do not see your country included in the list above, please contact us so we may be able to work with you.