Turmeric Curcumin
Turmeric curcumin has gained steam over the last 2-3 years as that supplement that will solve or help alleviate all sort of health issues; the hype is indeed, real. Turmeric curcumin is a great herb/supplement and there aren't many like it when you think of its anti-inflammatory benefits.
Turmeric curcumin has been around for thousands of years. It is confirmed to have first been used in Ayurvedic practices in India. Back then, they used turmeric curcumin to relieve joint pain/arthritis. Turmeric was also used for improved digestion, increased energy and a whole lot more. What turmeric curcumin was primarily used for some 4000 years ago is still pretty much what it is used for today. The only difference is that turmeric formulation and absorption got better with science and research.
In its natural form, turmeric curcumin is poorly absorbed by the body. For normal kitchen-cabinet turmeric curcumin to really have intended effect on you, you'd have to use a lot of it. Using a lot of it still doesn't guarantee higher levels of absorption. Using a lot of kitchen-cabinet turmeric curcumin over time will bring about benefits, but nothing significant or noticeable in the short term.
With science and research, turmeric curcumin can now be better absorbed by the body. While some research shows black pepper as an agent that aids absorption of turmeric curcumin, there are other patented, clinically-trialed and researched ways to achieve an insane absorption levels.
The Just Potent Ultra High Absorption Turmeric Curcumin
All men are created equal, that one phrase we all know. The same is not true of turmeric curcumin. We say this: not all turmeric curcumin are created equal. The Just Potent Ultra-High Absorption Turmeric Curcumin is one-of-a-kind. It is better than pretty much every turmeric curcumin on the market today. It boasts better absorption than the next best thing, and you get better value.
The Just Potent Ultra-High Absorption Turmeric Curcumin is in a high class of its own because of its patented and clinically trialed turmeric curcumin extract called Acumin.
We though it'd be eye-opening to a lot of consumers to compare the Just Potent Ultra-High Absorption Turmeric Curcumin with Bio Schwartz Turmeric Curcumin. While the other brand is good and in a class of its own, the Just Potent brand is simply better in terms what matters: absorption, value, and double-blind, placebo controlled human studies.
Here is a comparison table — it sure speaks way louder than words.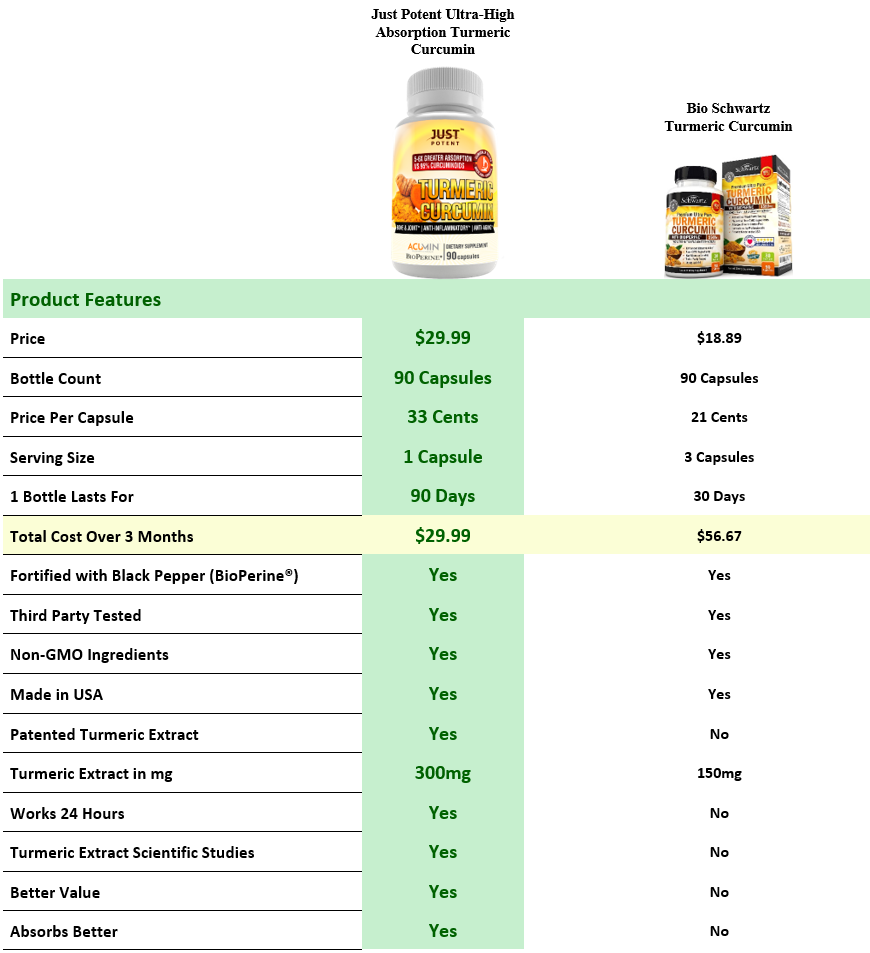 We believe the Just Potent is the best turmeric curcumin and we are so confident about this fact that we are willing to have a comparison showdown with any turmeric curcumin brand.